HMS Cumberland continues to support carrier Charles de Gaulle
HMS Cumberland has continued her operations over the Christmas and New Year period in support of the French aircraft carrier Charles de Gaulle by escorting her through the Strait of Hormuz early Boxing Day morning (26 December 2010).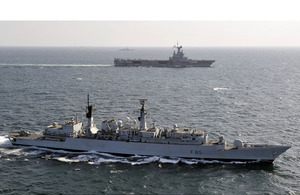 While most people in Britain were sleeping off the Christmas Day excess, HMS Cumberland led the French carrier group through the vital Strait of Hormuz and into the Gulf.
The British frigate had been acting in support of Charles de Gaulle in the Indian Ocean while she conducted air operations into Afghanistan over the Christmas period. Cumberland's duties with the French will continue in the Gulf.
Cumberland's Christmas tasking afforded her crew little opportunity to relax and enjoy the festivities, although, in traditional fashion, roast turkey and all the trimmings was served to the sailors by Cumberland's Captain and officers.
Captain Steve Dainton, Captain of HMS Cumberland, said:
Cumberland's tasking in support of Charles de Gaulle over Christmas has demonstrated the longstanding and close working relationship between the French Navy and us.
The Strait of Hormuz is a vital sea lane and Cumberland has been tasked to assist in the provision of security for the French carrier. This is a task we have already provided for other high value shipping since we've been on task in the area.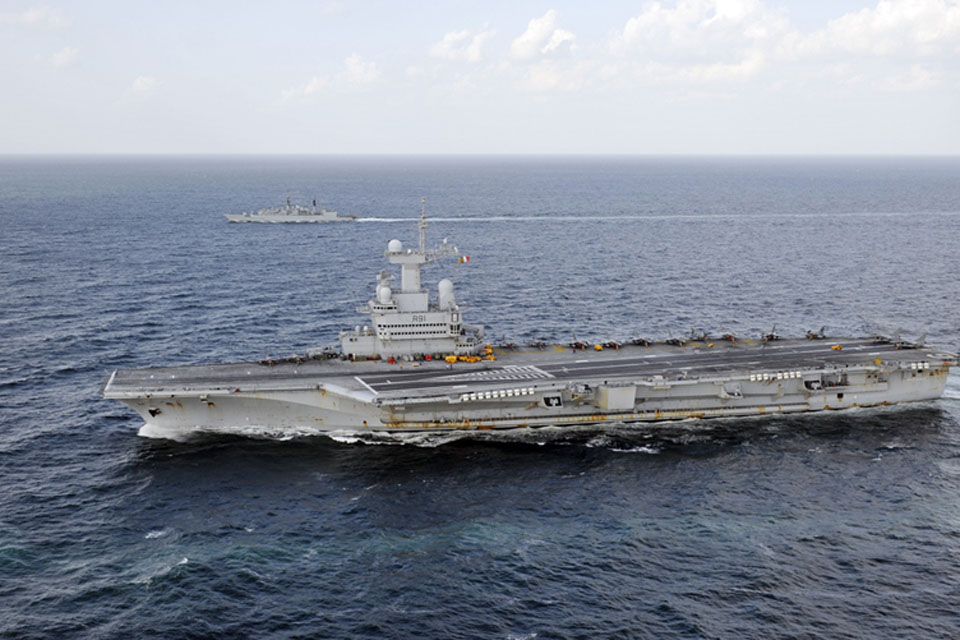 Cumberland is a versatile multi-role frigate, and is as much at home providing support to the carrier as she has been providing a reassuring presence to peaceful maritime use of the Gulf since the beginning of November 2010.
She assumed responsibility as the on-watch Gulf frigate from HMS Somerset on 31 October 2010.
Since then, she has been employed conducting energy security patrols in the Gulf, ensuring the safety of critical energy supply routes for the UK and her allies. She has also been tasked with the protection of the Al Basra oil platform in Iraqi territorial waters.
Some 80 per cent of Iraq's GDP is pumped through the terminal and into waiting oil tankers which then pass through the strategically critical Strait of Hormuz.
HMS Cumberland will remain on task in the Gulf until well into the New Year. She is due to return home to Devonport in March prior to decommissioning in the summer as part of savings following the Strategic Defence and Security Review. She sailed from the UK on 30 September 2010.
Published 4 January 2011