HMS Cornwall sails on counter-piracy operations
Plymouth-based Royal Navy warship HMS Cornwall set sail yesterday on a six-month deployment to the Gulf of Aden where she will conduct counter-piracy operations.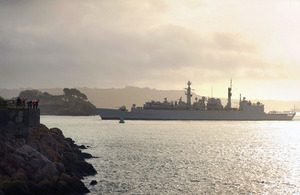 The ship has been preparing for several months for this operation by successfully undertaking an intensive operational sea training programme in her base port of Devonport to fully prepare the frigate and her sailors to handle any scenario they may face.
The vessel has also received an in-depth maintenance package to ensure this highly effective and capable warship can stand the rigours of months of intense activity far from the UK.
HMS Cornwall's Commanding Officer, Commander David Wilkinson, said:
My sailors, officers and I are looking forward to returning to the area and continuing our success of last year. However, our first thoughts will be for the loved ones we leave behind - they are our strength and have been a great support to us - we shall miss them.
This deployment is a return to familiar waters for HMS Cornwall, which was operating in this region at the end of last year. The ship will operate with international navies as part of the Combined Maritime Force which is deterring piracy and supporting the safe passage of international shipping through the area.
Published 29 October 2010