HMS Bangor destroys bombs off Libya
The Royal Navy minehunter HMS Bangor has destroyed a 2,000-pound (907kg) mine and a torpedo lying on the seabed off the port of Tobruk in eastern Libya.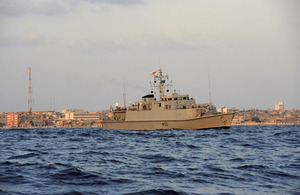 The ship has conducted exhaustive surveys of harbours in eastern Libya in recent days, helping to ensure that the waters are safe for merchant shipping. A residual threat remains from mines and other unexploded ordnance left behind as a legacy of the former Gaddafi regime.
In the course of this work, HMS Bangor's advanced sonar successfully detected both the heavily-corroded 2,000-pound mine and the torpedo. Bangor was able to safely destroy both of the weapons using demolition charges dropped in place by her Seafox remotely-controlled underwater submersible, working at a depth of 475 feet (145m) in the case of the mine.
Bangor's Commanding Officer, Lieutenant Commander Neil Marriott, said:
To find two pieces of ordnance and destroy them safely is a great result for my ship's company.
We have been hunting for mines since June, working from port to port, and a success like this means shipping into Libya is that much safer.
Both weapons were spotted by a mine warfare team working in Bangor's operations room as they kept a close eye on the data fed to them by the Sandown Class ship's cutting-edge sonar sensors.
Ops room supervisor, Petty Officer Steve 'Stirling' Moss, said:
When we're minehunting we have several people watching the screens for any contact.
On this task we saw several items which looked about the size of a mine, and two of them turned out to be real. It's not a regular thing to happen, so we're really pleased we found them and we were able to destroy them.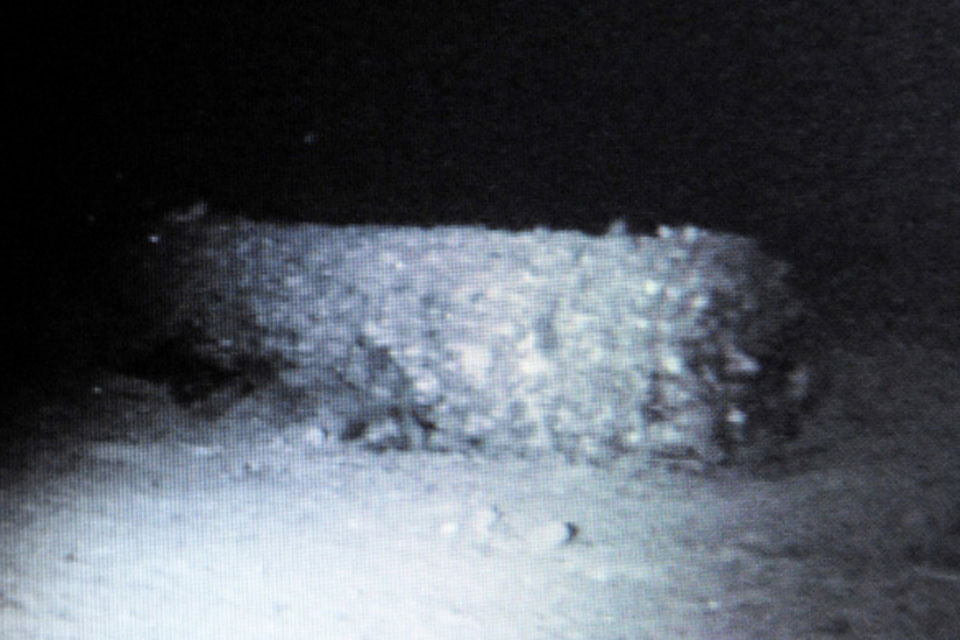 Bangor's new mission in eastern Libya comes after spending recent months off Misurata helping to keep the sea lanes to the then besieged port open earlier in the civil war.
Bangor's 38-strong crew have been part of Operation UNIFIED PROTECTOR since taking over from the minehunter HMS Brocklesby, which blew up a mine near Misurata as the war with Colonel Gaddafi raged.
Lieutenant Commander Marriott added:
We were due to go and work in the North Sea and Baltic when we deployed, but this task took priority and we were ready to do it. We have hunted for mines off Benghazi and Brega already, and are ready to search in any other Libyan port that needs it.
With both of these explosives, they were historic, and their detonation methods had corroded, but they could still have been set off accidentally so it was the right thing to do to destroy them.
Bangor moved away from the Libyan coastline with a Dutch minehunter and Canadian frigate on Sunday, but is ready to return there if needed.
The Sandown Class ship is one of two Royal Navy vessels committed to the ongoing NATO mission off Libya; the other, the destroyer HMS Liverpool, continues to patrol the Gulf of Sirte enforcing UN resolutions.
Supply ship RFA Fort Rosalie has been ordered home as she's no longer required, and HMS Ocean has been dispatched east of Suez now her Apache gunships are no longer needed to conduct strike missions against targets ashore.
Meanwhile, the RAF has continued to participate in NATO's intensive armed patrols over Sirte. On Sunday afternoon, RAF aircraft identified one of Colonel Gaddafi's multiple rocket launchers, scoring a direct hit on it with a Brimstone missile.
On Saturday, allied reconnaissance operations identified a supply base for some of Colonel Gaddafi's anti-aircraft artillery weapons in Sirte.
A formation of RAF Tornado GR4s was tasked with the destruction of the position and four Paveway precision guided bombs were successfully dropped on the target.
Later on Saturday, another formation of GR4s, conducting an armed reconnaissance patrol over Sirte, sighted an armed pick-up truck being used by former regime forces, and destroyed it with a direct hit from a Brimstone missile.
Published 5 October 2011