News story
HMRC's top lawyer to leave department for new role at Oxford University
Gill Aitken, HMRC's General Counsel and Solicitor, is to leave the department to take up a new role as Registrar at the University of Oxford.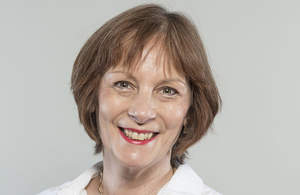 Gill joined HMRC in 2014 to lead the Solicitor's Office and Legal Services, advising HMRC and HM Treasury, legislating for all aspects of tax law and leading a large litigation practice safeguarding tax revenues. Gill is also HMRC's Social Mobility champion.
She has previously worked at the Department for Work and Pensions, the Department for Environment Food & Rural Affairs and the Department of Health, and is chair of governors at the London Academy of Excellence in Tottenham, North London.
Gill's last day with HMRC will be 30 June. A recruitment exercise will begin in due course, and interim arrangements for the leadership of the Solicitors Office and Legal Services team will be confirmed shortly.
Gill said:
Law really shapes and changes lives and I have been fortunate in having a civil service career so close to the buzz of politics. I have been able to influence and support decisions which affect our lives and society.
HMRC Chief Executive Jon Thompson said:
I'm hugely grateful to Gill for her contribution to HMRC. She has led a very successful litigation team that has protected billions in revenue and has played a vital role in shaping complex tax legislation. She has helped to shape our departmental strategy and I'll really miss her wise counsel.
Published 1 June 2018