World news story
HMRC to provide technical assistance to Pakistan tax authority
The UK will provide technical assistance to the FBR to help improve tax collection to support economic integration, stability and growth.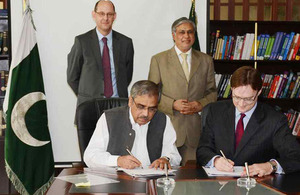 Pakistan's Federal Board of Revenue (FBR) signed a Memorandum of Understanding (MoU) with Her Majesty's Revenue and Customs (HMRC), UK in the presence of the British High Commissioner Philip Barton and Finance Minister Ishaq Dar in Islamabad on Thursday.
The British High Commissioner to Pakistan, Mr. Philip Barton CMG OBE said,
The Government of Pakistan has committed itself to meeting ambitious targets for increasing the revenue it raises from taxation. The British Government welcomes this commitment. A State's ability to collect taxes and its citizens' willingness to pay them – in return for public services – are hallmarks of democracy. I am delighted that Her Majesty's Revenue and Customs is providing practical assistance to the Federal Board of Revenue to help the Government meet its targets
The UK will provide technical assistance to the FBR over the next three years to help build its capacity and improve tax collection to support economic integration, stability and growth. This technical assistance – supported by the UK's Department for International Development (DFID) – will be provided by HMRC.
The FBR and HMRC will work together to help Pakistan achieve its tax targets by helping to develop skills, knowledge and other resources essential for improving its performance in tax collection. HMRC will also advise the FBR on innovative solutions and measures to improve tax enforcement and reduce opportunities for tax evasion. Specific areas of assistance include off-shore taxation, strategic communications and the use of information technology - particularly forecasting and analysing available information and assessing risk.
The UK is committed to working with the government of Pakistan – at both the federal and provincial levels – to deliver on their ambitious plans to tackle poverty by creating more jobs, transforming education, increasing the tax base, stimulating growth, and providing better services to millions of children, women, and men across Pakistan.
Notes to editors
Across Pakistan, the UK is working closely with federal and provincial governments and partners on ambitious plans which will benefit millions of children and improve the standard of their education.

Pakistan is now one of the UK's largest recipients of development investment.

As well as tackling the education emergency, other priorities for the UK in Pakistan include preventing thousands of women dying in childbirth by funding skilled midwives, nurses, or doctors; providing job skills training to tens of thousands of the poorest people; and giving women in deprived households small monthly cash grants to purchase essentials, such as food and medicine.

UK development investment is dependent on continuing to secure value for money and results.
Published 18 September 2014
Last updated 19 September 2014
+ show all updates
Update in the image
First published.