News story
HMRC to build revolutionary new digital services in the North East
HMRC is launching a recruitment drive in the North East for more than 50 digital specialists to staff a new Digital Centre.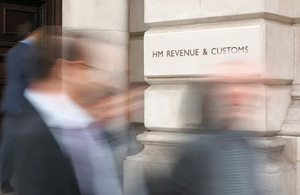 The centre will build digital tax services that will make it simpler, clearer and faster for people and businesses to manage their tax affairs.
HM Revenue and Customs (HMRC) is seeking people with world-class digital experience who can demonstrate that they understand the potential of digital services to transform customers' experiences of managing their tax affairs.
HMRC digital staff and technology suppliers will work together in the Digital Centre to identify the needs of taxpayers, test new services with real users, and keep improving them once they are released to the public.
HMRC will initially recruit more than 50 digital specialists to the Digital Centre. The new jobs range from product managers, interaction designers and user researchers to technical architects and software developers. The first tranche of vacancies, which will be open to both existing HMRC staff and external candidates, will be advertised from 27 January. A further 30 existing HMRC staff will we dedicated to this centre.
HMRC aims to open another Digital Centre, focusing on digital analytics, later in the year although it has not yet announced where this will be located.
Mark Dearnley, HMRC's Chief Digital and Information Officer, said:
This is the start of our ambitious programme to transform HMRC's online and digital services.

The Digital Centres will foster a culture of innovation not seen across government before so that we can continually find new ways of supporting customers.

This recruitment is the first step on our journey to offer a digital service that allows our customers to service their own needs online and reduces the dependence on paper services.
Mike Bracken, Executive Director of Digital for the UK Government, said:
Starting with the needs of users has led to a radical shift in the way we build and provide government services. Digital by default will make tax simpler, clearer and faster for users, and bring new skills and ways of working into HMRC. The department's exemplar digital services will go live by 2014, and Government Digital Service will be working closely with HMRC to develop its digital talent in the North East and throughout the UK.
'Exemplar' services
The Government Digital Service is working with HMRC and other government departments to redesign and rebuild 25 significant "exemplar" services, which will be simpler, clearer and faster to use. All of these are designed to meet the Digital by Default Service Standard by April 2014 and will be completed by 2015. See www.gov.uk/transformation for more details.
Published 21 January 2014