News story
HMRC opens new channel for agent engagement
HMRC has launched a new blog to improve the way it works with agents.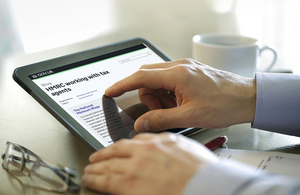 The Agent Engagement Team's blog, at taxagents.blog.gov.uk/, supports HM Revenue and Customs' (HMRC) strategy for engaging with agents. In particular, it provides a new channel to communicate about:
joint HMRC and agent consultative meetings;
the rollout of HMRC's Tax Agent Strategy;
improvements to HMRC services by working together;
the services available for agents.
Theresa Middleton, Director Business Tax Customer and Strategy, said:
Over the next couple of years HMRC is introducing new digital services for customers and their agents. As part of this, there is a lot of joint working taking place. We involve and consult with agents and their representatives in many different ways. The aim is to keep people up to date through regular blogging and to have a more immediate way of getting agents' views.
Published 13 January 2014