World news story
HMA Edward Oakden's statement at joint press conference
London conference almost doubles international support to Jordan.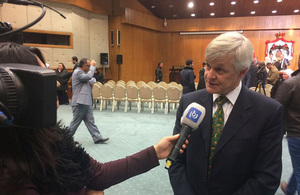 At the conference, British Ambassador to Jordan Edward Oakden said:
One year ago, the world came together in London to agree a new response to the terrible war in Syria, which has claimed hundreds of thousands of lives and seen 17 million flee their homes, in many cases finding shelter in surrounding countries like Jordan. The event was a remarkable success, seeing more than $12 billion pledged by the international community – more than has ever been committed for a humanitarian crisis in a single day.

For Jordan, this London agreement has led to the international community almost doubling its support to the Jordan Response Plan. For 2016, UN figures now show roughly 60% of the plan being funded. This is unprecedented when compared to other international appeals, as well as in comparison to the response in 2015, where around 36% of the plan was funded. This near-doubling in support to the JRP, alongside leadership from the Jordanian government, has meant that great strides have been made in areas like education, where the government is on track to achieve its aim of ensuring that all children in Jordan are in education this year.

The UK has exceeded the commitments we made in London, both in Jordan and elsewhere in the region – of over half a billion dollars. In Jordan, we have doubled our support, and provided almost quarter of a billion dollars in one year. This takes our contribution to over three quarters of a billion dollars since the start of the Syria crisis.

What have these enormous figures meant in practical terms? In short, tangible benefits for Jordanians. In education, UK support has helped train 2,700 new teachers and is providing maintenance at 320 schools across the country, from Aqaba to Mafraq. We're supporting vital services, like the provision of 30 additional rubbish trucks in Amman to help manage increased levels of waste, caused in part by a rising population. And in the economy, we're supporting initiatives that help young people find jobs, like renewable engineering skills for students from Ma'an, where over 80% of participants are now employed.

The examples don't stop there. UK support has bought parts for the construction on the new Amman to Zarqa waste water pipeline, from which 10,000 families will benefit through more efficient sewage management. And our Development Secretary Priti Patel was able to visit a company in Amman last week which has taken advantage of the EU's revised Rules of Origin to create 168 new jobs for Jordanians as well as 80 for Syrians- a real win-win – as it prepares to export to the EU.

I could go on. But while clearly much has been achieved in the year since the London conference, as the Development Secretary made clear after her visit last week, there is more work to be done. An important conference in Brussels in April will take on the baton from London; and it will be important that that conference have a sharp focus, not only on Syria itself of course, but on the plight of the neighbouring countries such as Jordan, where there is an urgent need to generate growth. The UK will stay the course with Jordan. We remain committed to being at the forefront of working with the Jordanian government for the foreseeable future, to keep delivering what Jordan, and Jordanians, need as you sit on the front line against the Syria crisis, helping preserve your security, your stability and your economic sustainability.
Document information
Published: 13 February 2017