World news story
HMA Anwar Choudhury welcomed Chevening scholars back to Peru
British Ambassador greeted two Peruvian master's degree graduates at the British Embassy in Lima.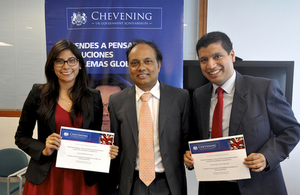 On December 17th, HMA Anwar Choudhury welcomed back two Peruvian Chevening scholars from the class of 2013/2014, who returned to Peru following the completion of their programs.
Fernando Cerna recently returned from UK after completing studies for a Masters degree in Logistics and Supply Chain Management at Cranfield University.
Carla Balbuena obtained a Masters degree in Social Policy and Development at the London School of Economics and Political Science. "This year in the UK provided me with the strongest tool of British education: critical thinking," said Balbuena, adding that this thinking was "crucial for anyone who wants to understand the world's social problems."
The British Embassy in Lima encourages Peruvian candidates who wish to study for a one-year Master's degree at one of the UK's best universities to apply.
For more information please visit the Official Chevening Program website. For more pictures please follow this link.
Published 8 January 2015