World news story
HM the Queen's Birthday Parade plans for Grand Turk
Governor announces arrangements for the celebrations on Monday 10 June 2013, a public holiday in the Turks and Caicos Islands (TCI).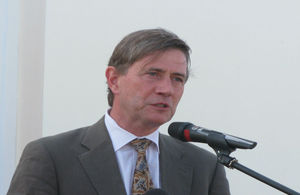 A parade in the nation's Capital, Grand Turk, will feature participants from the TCI uniformed services, local schools and youth organisations accompanied by music from the Royal Turks and Caicos Islands Police Force (RTCIPF) band.
In addition to the RTCIPF, staff from HM Prison, customs and immigration officials, fire fighters, the Ex-Serviceman Legion, boy scouts, girl guides, pathfinders and children from schools across Grand Turk will take part.
The parade will start at 5.00 pm at the Parade Ground, North Back Salina, Grand Turk, and last for approximately 60 minutes. It will conclude with a royal salute taken by His Excellency the Governor.
Following the parade the Governor will present long service awards to key members of the uniformed services in recognition of their 18, 25 or 30 years of service to the Crown.
As is traditional in the TCI, the Governor's Office will provide free refreshments to all participating in the parade, and there will be a reception at Waterloo immediately after the parade for invited guests.
Commenting on the Queen's Birthday Parade celebration the Governor said, "After all the Jubilee celebrations last year, it is notable that these celebrations to mark Her Majesty The Queen's birthday happen just after the occasion of the 60th anniversary of Her coronation. Her remarkable reign has spanned a historic period of time that has seen amazing social and political developments across the world.
"I know from my two years here that this is one of the key highlights in the TCI social calendar as we come together to celebrate and give thanks for Her Majesty, our Queen."
Published 6 June 2013