World news story
HM Ambassador visits British volunteer summer school for children
A British-run volunteer summer school for children and adults functions in the suburbs of Bishkek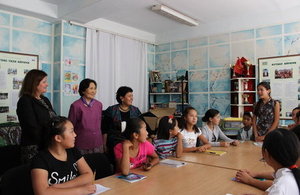 On 22 July HM Ambassador Judith Farnworth visited school number 84 and 77 in the suburbs of Bishkek to take part in the opening of English-language summer schools for young learners and for teachers of English language from all around Kyrgyzstan. The 12-13 year old school children were able to display their impressive language skills in conversation with the Ambassador.
The summer schools are financed and run by British volunteers, who have been organising these English language courses since 2005 in close co-operation with the Kyrgyz women's public union "Erayim". The courses are organised every year from mid-July to mid-August to help develop the skills of self-help groups among vulnerable sections of the population in remote regions of Kyrgyzstan. The leader of the British volunteer group, Mrs Claire Reeves, finances the project through fund-raising in the UK.
This year the team includes Anne and Stephen Garsed, parents of a former British student-teacher and five young British students, Charlotta, Amy, Andrew, Joe and Lewis who are studying Russian at universities across the United Kingdom. Since the launch of the project in 2005 more than 1800 children and adults have been able to improve their knowledge of English.
HM Ambassador said "It is a great pleasure for me to visit the summer school and to see for myself the very fruitful co-operation between British and Kyrgyz volunteers. I admire the dedication of both British and Kyrgyz teachers to improving the English language skills – and with it the opportunities – of so many young students in the Kyrgyz Republic. I can see that teachers and students alike are working very hard but I'm sure it's also proving to be a fun way to learn more about our respective cultures and traditions."
More information about this British volunteers run project can be found at the following website: www.volunteersinkyrgyzstan.wordpress.com
Published 24 July 2013