World news story
HM Ambassador Sarah Gillett presents credentials to His Majesty King Harald V
Sarah Gillett CMG CVO today presented her credentials as Her Britannic Majesty's Ambassador to His Majesty King Harald V of Norway during a ceremony held at the Royal Palace in Oslo.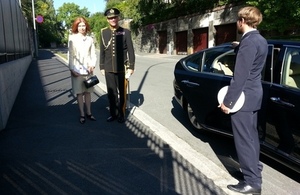 The formal ceremony began with the Chief of His Majesty the King's Military Staff, Brigadier Nils Petter Granholt, calling on the Ambassador at the British Embassy to accompany her to the Norwegian Royal Palace in Oslo. The Ambassador was escorted into the Palace and met by the Lord Chamberlain who introduced her to members of the Court and Staff in attendance. The Ambassador was then received by His Majesty King Harald V in his office and the Letter of Credence was presented.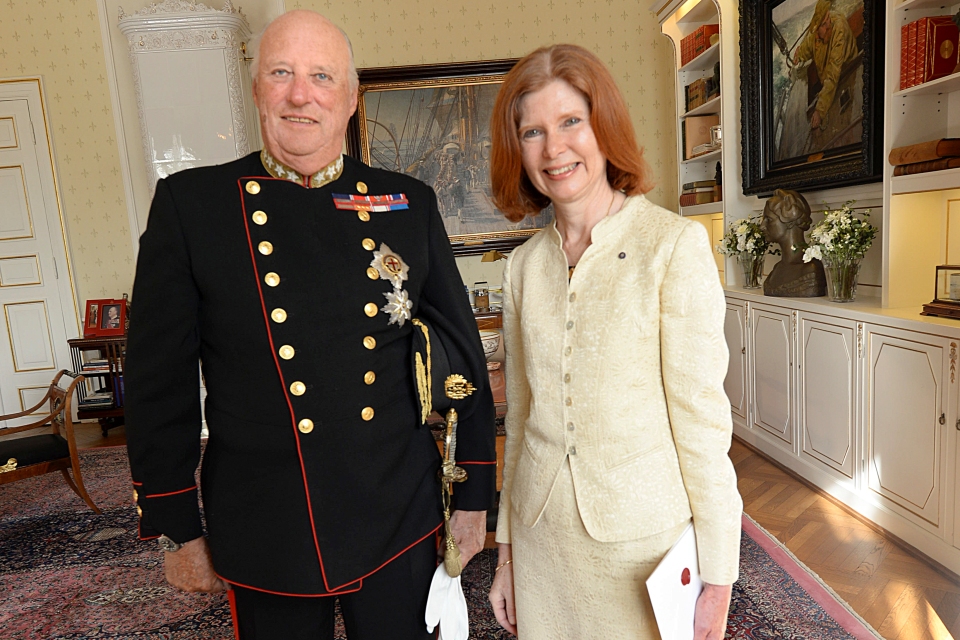 After her audience with King Harald, Ambassador Sarah Gillett said "It was a truly memorable occasion. Norway and the United Kingdom are neighbours, allies, and close economic partners with extensive links. I am greatly looking forward to serving as British Ambassador in this beautiful country, and thank everyone who has made me feel so welcome. I know I shall have a busy and enjoyable mission."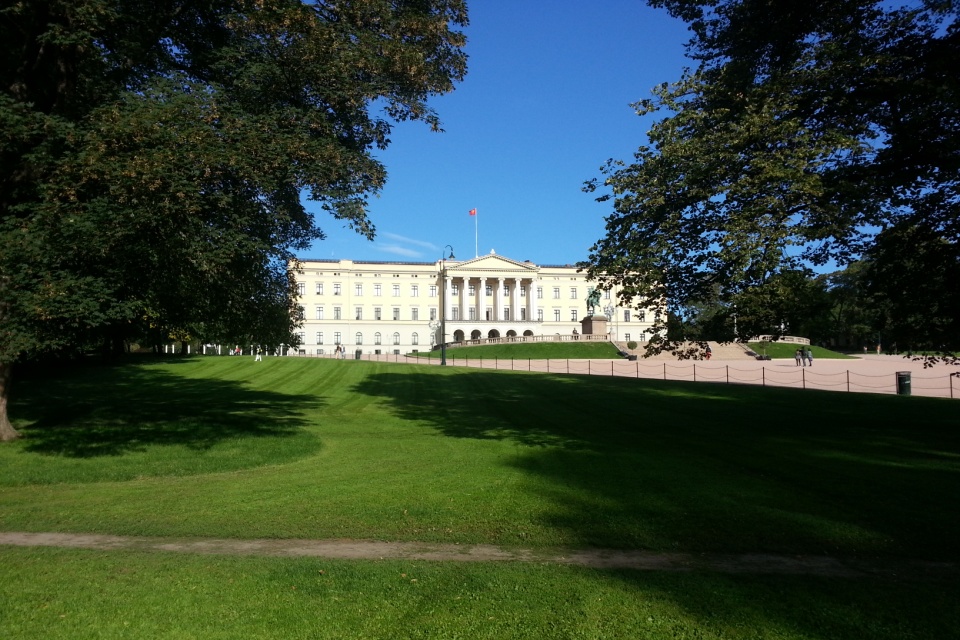 Sarah Gillett's previous diplomatic assignments include serving as HM Ambassador to Switzerland and to Liechtenstein, as Director of Protocol and Vice-Marshal of the Diplomatic Corps in London, as Consul-General in Montreal, and as Deputy Head of Mission in Brazil. She studied International Relations and Politics at Aberdeen University.
| Personal details |   |
| --- | --- |
| Full name: | Sarah Gillett CMG CVO |
| 2014 – | Oslo, HM Ambassador to the Kingdom of Norway |
| 2009 – 2013 | Berne, HM Ambassador to Switzerland and Liechtenstein |
| 2006 – 2009 | FCO, Director of Protocol and HM Vice-Marshal of the Diplomatic Corps |
| 2002 – 2006 | Montreal, HM Consul-General |
| 2000 – 2001 | Brasilia, Deputy Head of Mission |
| 1997 – 1999 | Brasilia, Head of Economic Section |
| 1994 – 1996 | FCO, Head of Mekong Section, South East Asia Department |
| 1992 – 1995 | Los Angeles, Vice-Consul (Inward Investment) |
| 1991 – 1992 | FCO, Central European Department |
| 1990 – 1991 | Assistant Private Secretary to the Minister for Overseas Development |
| 1987 – 1989 | Paris, Third, later Second, Secretary (Economic) |
| 1984 – 1987 | Washington, Third Secretary (Chancery) |
| 1983 – 1984 | FCO, Central Africa Department |
| 1982 – 1983 | FCO, Falkland Islands Department |
| 1978 – 1982 | Special Unpaid Leave |
| 1976 – 1978 | FCO, Secretary of State's Office |
| 1976 | Joined FCO |
Published 28 August 2014