World news story
Historic visit of Burmese president to UK helps open up trade
This was published under the 2010 to 2015 Conservative and Liberal Democrat coalition government
The visit of President U Thein Sein to the UK on 16-17 July 2013 encompassed a series of events which laid the groundwork for future trade and investment ties.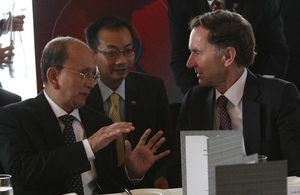 President U Thein Sein gave a clear message that UK companies would be welcome in Burma, and that there was a clear commitment in Burma to promote transparency and reduce corruption.
The President highlighted that Burma is geographically positioned to take a strong role in the regional economy, and said that its new Foreign Investment Law creates huge potential for foreign investment. Both funds and knowledge are needed for Burma to realise this potential and this opens up opportunities for UK companies to become involved in Burma.
The three most urgent needs for Burma's economic development are:
technical knowledge

financial resources

human resources
One immediate requirement is to increase knowledge of international and corporate law and so Burma hopes to build links with legal associations to develop capacity.
President U Thein Sein said during his speech at a multi-sector UK-ASEAN Business Council (UKABC) lunch:
"With its rich natural resources such as natural gas, mine deposits and sustainable livelihoods, Myanmar offers many business opportunities. As a bridge between South Asia and South East Asia, the strategic location of Myanmar makes us a big potential market.
Myanmar is a resource rich country and the UK is an industrialised country. I do believe that Myanmar and the UK can work together in mutual benefit for business between our two countries."
Key elements of the visit included:
announcement of £450,000 of new FCO Prosperity Fund for projects focusing on actions to promote transparency and reduce corruption

UKTI Financial and Professional Services Breakfast, which included representatives of key companies and organisations who will participate in a UK-Burma Financial Services Taskforce (Standard Chartered, Allen and Overy, Prudential)

introductions from 15 key UK firms to the President at the UK-ASEAN lunch, with strong representation from oil, gas, power and infrastructure, including BG and Shell, both of whom have pre-qualified in Burma's offshore tender round

President's keynote address at a UK ASEAN Business Council event reiterated his commitment to attracting investors
The Burmese President left with a clear picture of what UK business can do to help further Burma's economic development. The visit also laid the ground work for the Lord Mayor's visit, and development of the Financial Services Taskforce.
You can read more about UK ASEAN Business Council event on their blog.
Contacts
If you are considering investing in Burma and would like more information contact: