World news story
His Royal Highness (HRH) Prince Michael of Kent visited St Petersburg
HRH Prince Michael Supports Disability. His programme included a visit to a special needs school and rehabilitation centre for children with disabilities "Dinamika".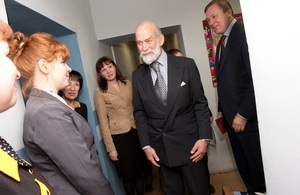 HRH Prince Michael toured the school premises and met children and teaching staff. He was given a presentation about a charity project aiming to develop a centre for disabled children. This centre will teach vocational and life skills which will help children to progress to an independent adulthood. The project is being implemented by Dinamika school jointly with several Russian charities and the UK's St Gregory's Foundation.
HRH Prince Michael also participated in events commemorating the 400th Anniversary of the Romanov Dynasty. He met representatives of the Russo-British Chamber of Commerce of which he is a Patron.
Published 24 March 2013