Press release
Highways England reunites one man and his dog
Lucky Lottie from Ynyslas near Aberystwyth is happier than a dog with two tails to be reunited with her family after Highways England traffic officers from Heston and Chievely were quickly on the scent to save her from an unexpected adventure in London.
This news article was withdrawn on
This press release is no longer current.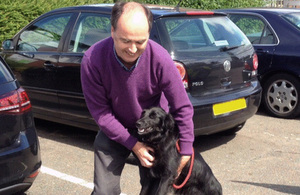 Aidan takes up the story:
We were just taking a quick walk before going to the room for the night, when there was an enormous fireworks explosion. It was incredibly loud and it spooked and shocked Lottie so much that she managed to pull the lead out of my hand and raced off across the car park into a hedge. She was heading directly for the motorway. We called for her and looked around the area all night but couldn't find her. The next morning, just as I was thinking the worst and just as I was about to call our children to let them know that she had gone, I got a phone call from Highways England to say they had found her on the motorway hard shoulder.
Bob Coulson, a Highways England traffic officer, said:
My colleague Lindy Noonan and I had a call saying that someone had spotted what they thought was an abandoned dog tied to the hard shoulder barrier of the M4. When we went to investigate we couldn't see anything, but then I just caught a glimpse of a small black head hiding in the shrubs behind the barrier. When we got closer we could see that she was well-cared for and not abandoned, but she was cowering and shaking and was obviously very nervous and scared. We sat with her and calmed her down until we were able to get a phone number from her collar tag. Then we called Mr Hassan and got Lottie into our vehicle to take her back to the service station where Mr Hassan was waiting.
Aidan continues:
When I lost Lottie I suddenly knew what feeling wretched was really like. When I saw her being brought back again it's hard to describe how relieved I felt. I am absolutely grateful to Bob and Lindy and Highways England for getting Lottie back to us.
Bob agrees:
It's great to have such a positive outcome. I'm extremely happy that we were able to reunite Lottie and her family.
General enquiries
Members of the public should contact the Highways England customer contact centre on 0300 123 5000.
Media enquiries
Journalists should contact the Highways England press office on 0844 693 1448 and use the menu to speak to the most appropriate press officer.
Published 25 June 2015