Press release
Highways England promotes road safety and partnership working
Highways England and emergency service partners are promoting a number of road safety messages ahead of the May Bank Holiday and Whitsun Week getaway.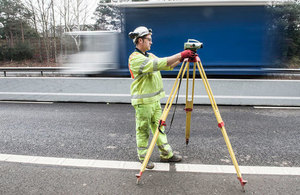 In partnership, Highways England, Avon & Somerset Police, Avon Fire & Rescue and South Western Ambulance service work closely together on a routine and day-to-day basis to maintain safety and keep the strategic road network, including the M4, M5, M48, M32, M49 and major A roads, running smoothly.
During holiday periods, traffic volumes rise on the South West's roads and can lead to an increase in incidents, particularly along the major M4 and M5 routes.
And ahead of the May Bank Holiday, Highways England and the emergency services have updated their motorway closure protocol to ensure the most efficient and expedient handling of major motorway closures.
Highways England Operations Manager Jeff Foreman said:
Our roads in the South West provide vital links for businesses, commuters, local communities and holiday makers and our motorways and we are aware that motorway incidents can have a really negative impact on the region as a whole.

As a result we have recently refreshed and revised our closure protocol to ensure we can manage incidents more efficiently, mobilise resources and equipment quicker in the event of any major incidents and ensure any closures are minimised as much as possible.

The protocol is one of many examples of how we work together as 'one team' it plays an important part in managing and clearing the carriageways after major incidents, and our traffic officers also work closely with emergency services across the region, including day-to-day and major incidents, as well as during severe weather.
As part of this multi-agency approach we are also running a trial to extend our traffic officer patrols along the A30 in Cornwall, to assist our emergency services partners in the south of the region.

Our message is that we are fully prepared and during the upcoming holiday months, we also advise that drivers prepare themselves for any longer or unfamiliar journeys.
Police and Crime Commissioner Sue Mountstevens said:
Motorway driving is an efficient means of direct travel to your destination, but if you're stuck in the aftermath of a collision it can become frustrating. With more and more vehicles taking to our roads, I believe education is crucial to ensuring the roads remain safe for all who use them.

In the event of a motorway collision, it's not always understood why the road is closed for a length of time or who is responsible for re-opening the road. That's why I am committed to working closely with partners to help road users understand the multi-agency response following a collision, with the aim of reducing the number of casualties on our roads.
Superintendent Andy Williams from Avon & Somerset Police added:
We understand the frustration that drivers will feel when they're stuck on a road following a full carriageway closure and we appreciate drivers' patience, and understanding.

The newly updated protocol highlights just one of the ways we are working in partnership with Highways England and other agencies to get roads reopened as soon as possible following an incident on the road. We also want everyone to get to their destinations safely, so please follow all safety tips and reduce your chances of getting caught up in an incident this summer.
Both Highways England and Avon & Somerset Police advise drivers to be prepared, plan their journeys, allow extra time and take regular breaks.
To help you prepare, follow these simple steps:
Check tyres: Prior to setting off on a long/significant journey, check your tyre pressure and the condition of your tyres, including the spare. Look out for cuts or wear and make sure the tyres have a minimum tread depth of 1.6mm, which is the legal limit.
Check engine oil: Use your dipstick to check oil before any long journey, and top up if needed. Take your car back to the garage if you're topping up more than usual.
Check water: To ensure you have good visibility, always keep your screen wash topped up so you can clear debris or dirt off your windscreen.
Check lights: If your indicators, hazard lights, headlights, fog lights, reverse lights or brake lights are not functioning properly, you are putting yourself and your family at risk. In addition, light malfunctions can be a reason for your vehicle to fail its MoT.
Check fuel: Before setting out, check your fuel levels and make sure you have enough to get to your destination.
Travel as light as possible: do not exceed the recommended carrying capacity of your vehicle and ensure that luggage doesn't restrict visibility.
For more detailed information on how to carry out your vehicle checks, visit the Think! website.
To help motorists this Bank Holiday weekend, Highways England is also removing some 237 miles of roadworks by 6am on Friday 25 May meaning more than 98 per cent of the motorway and A-road network managed by Highways England, will be roadworks-free.
Since Easter, Highways England has also resurfaced around 58 miles of its network in the South West, providing smoother holiday journeys for all drivers.
Any ongoing roadworks will not be put back in place until a minute past midnight on Tuesday, 29 May.
General enquiries
Members of the public should contact the Highways England customer contact centre on 0300 123 5000.
Media enquiries
Journalists should contact the Highways England press office on 0844 693 1448 and use the menu to speak to the most appropriate press officer.
Published 24 May 2018