Press release
Highways England goes out to tender on construction works framework agreement in the East Midlands
Highways England has published a tender for a new framework agreement for construction works expected to be worth more than £250 million, and running for 4 years, in the East Midlands.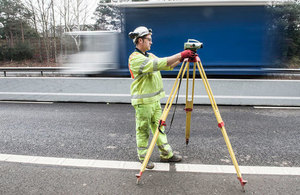 It is the second invitation to tender to be published under the new set of arrangements in the East Midlands, which sees Highways England making a change from its previous way of working, bringing key functions in-house to take direct control of its road network.
The framework is made up of 14 lots representing the disciplines of construction required to maintain, repair, renew and improve the strategic road network in the East Midlands.
In a change from previous arrangements, the new framework will see successful contractors having direct contact with Highways England, making it easier for them to showcase innovative materials, products and techniques.
David Poole, director for commercial and procurement, said:
This represents a real step change for Highways England and the way it has previously managed contracts. This new way of working in Area 7 demonstrates Highways England's commitment to enhancing the way it operates the strategic road network over the next five years.
The framework agreement will be in place from 1 April 2016, and it is expected that the total value of contracts to be awarded through the framework could be more than £250 million.
The new contract arrangements in the East Midlands bring with them new employment opportunities, with Highways England looking to boost its in-house capability through the recruitment of new staff - with a significant number expected to transfer from the current Area 7 provider Aone+.
The tender can be found at the ted.europa.eu website.
General enquiries
Members of the public should contact the Highways England customer contact centre on 0300 123 5000.
Media enquiries
Journalists should contact the Highways England press office on 0844 693 1448 and use the menu to speak to the most appropriate press officer.
Published 28 September 2015