Press release
Highways England contract worth up to £70m per year kicks off in Kent and Sussex
A 5 year maintenance and response contract worth between £55m and £70m per year with A-one+ has started.
This news article was withdrawn on
This document is no longer current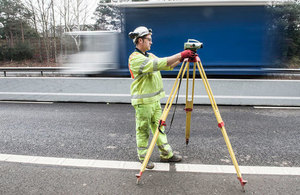 A maintenance and response contract expected to be worth between £55m and £70m per year and running for five years has started with A-one+ as part of Highways England's new delivery arrangements in Kent and Sussex.
The contract with A-one+ will support local businesses and people living in the region by keeping everybody moving along the strategic road network. This is an important part of Highways England's commitment to improve safety and deliver better journeys.
Since Tuesday 7 June, A-one+ has been delivering routine highway maintenance services, emergency incident response and severe weather services, as well as renewal and small scale improvement projects, on roads in Kent and Sussex. The roads include the A21, M2 and M20 in Kent as well as the A23, A27 and M23 in Sussex.
The new arrangement with A-one+ will focus more on long term effective maintenance and development of the highways assets. It will provide a platform to drive innovation, efficiencies and savings, such as requiring the company to combine routine maintenance works with projects to minimise the impact on the travelling public and deliver better value for money. They will also be advocating shared opportunities within roadworks to allow local authorities to use the closures for other activities such as litter picking.
Highways England divisional director for the south east, Simon Jones said:
This new contract allows us to build upon our commitments to our customers in Kent and Sussex. We want to ensure that safety remains our top priority, that we keep our network in a good, safe and reliable condition, and to put our customers at the heart of our work. I am looking forward to working with A-one+ in providing a first class service.
A-one+ is a shared joint venture between CH2M, Colas and Costain with a 'One Team' approach, working within a cohesive integrated team structure.
A-one+, Managing Director, Clive Leadbetter said:
I am delighted that A-one+ has been selected by Highways England to support their delivery plans in Area 4 to meet the aims and objectives of their procurement strategy. Our expertise and ability to create innovative solutions in safety, customer experience and asset management has been and will continue to be of huge importance in future proofing our strategic road network. Thanks go to our parent companies for creating and encouraging the platform for A-one+ successful delivery.
The contract has already got off to a successful start. On Friday 17 June a successful collaboration between A-one+ and Sussex Police meant that work to pump out flood water on the A27 in Worthing was able to be carried out at the same time as allowing pre-planned roadworks to maintain the lighting.
The contract covers a total route length of 280 miles and has 845 structures, including 497 bridges or large culverts and two tunnels.
The network includes a number of key international ports and airports, including Gatwick Airport, the Channel Tunnel, and Dover and Folkestone ports; it also directly links to other parts of the UK road network via the M25. Many of the routes carry a high proportion of heavy and light goods vehicles and there are high levels of seasonal south coast holiday traffic.
General enquiries
Members of the public should contact the Highways England customer contact centre on 0300 123 5000.
Media enquiries
Journalists should contact the Highways England press office on 0844 693 1448 and use the menu to speak to the most appropriate press officer.
Published 28 June 2016