Press release
Highways England completes repair work on iconic Spaghetti Junction ahead of schedule
Highways England is lifting road closures tonight on the iconic Spaghetti Junction and A38(M) in Birmingham after completing essential maintenance work a month ahead of schedule.
This news article was withdrawn on
This press release is no longer current.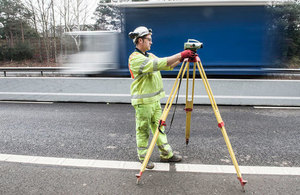 The vital work involved repairing damaged concrete caused by water seeping into the structure. As part of the scheme, new waterproofing material has been installed, designed to protect the structure for the next 20 years. Highways England has worked around the clock to complete the scheme as quickly as possible with motorists now benefitting from smoother journeys following the installation of new tarmac as part of the scheme.
Project Manager Jessica Kenny from Highways England said:
We're delighted to be able to complete the scheme more than a month ahead of schedule and to give motorists a festive boost ahead of late night shopping in the coming weeks. We're grateful for motorists bearing with us as we completed this essential maintenance work and we understand the frustration that can come from roadworks.

However, by completing the work now, we have been able to fully repair this section of the carriageway and reduce the duration of work and more importantly the risk of emergency repairs during the colder and wetter winter months. Safety is our number one priority and these repairs were vital in helping us to protect this iconic structure for years to come.
Both day and night closures will be lifted on all associated roads in stages starting from tonight (Tuesday). This includes the Aston Expressway (tidal flow lane), Park Circus and Salford Circus with all roadworks removed by Thursday.
Highways England worked closely with Birmingham City Council to plan the roadworks to minimise disruption throughout the programme.
The Highways England Customer Contact Centre is also available 24-hours-a-day on 0300 123 5000.
General enquiries
Members of the public should contact the Highways England customer contact centre on 0300 123 5000.
Media enquiries
Journalists should contact the Highways England press office on 0844 693 1448 and use the menu to speak to the most appropriate press officer.
Published 4 November 2016