Government response
Highways Agency's response to Public Accounts Committee report
Highways Agency's response to Public Accounts Committee report - 'Maintenance of strategic infrastructure: roads', published on 25 September 2014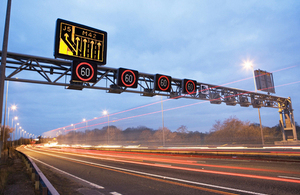 A Highway's Agency spokesperson said:
The majority of England's motorways and major trunk roads held up extremely well in some of the most severe weather conditions experienced - evidence that we do maintain our network and drainage systems to a high standard.

We have detailed asset information about our roads, structures, drainage and other assets. We know the location of our drainage. Using new surveying methods, we will be increasing our knowledge on the condition of it with minimal disruption to road users, helping to plan future maintenance work. In many cases it is more cost effective and less disruptive to road users to operate a routine drainage clearing programme.

The government is investing an unprecedented £24bn in the strategic road network up to 2021 - the biggest investment in our roads since the 1970's. We agree that continuity of funding is essential to continued improvement and this underpins the measures going through parliament at the moment to change the Highways Agency into a government owned company.
Published 25 September 2014