Press release
Highways Agency and National Express working together this festive season
With the festive season now upon us, there will be more roadusers heading off to spend time with their loved ones.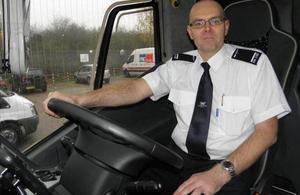 While they prepare to celebrate, the Highways Agency and National Express will be working to ensure they arrive safely and in time to spend the season with their loved ones.
The two organisations signed a landmark agreement earlier this year to work together to improve the customer experience for everyone using England's motorways and A roads.
As part of this, both Traffic Officers and coach drivers have been getting a first-hand insight into how each other work in the run up to Christmas.
National Express coach driver, David Patterson, became a Traffic Officer for a day as he visited the Agency's busy Dartford outstation. He supported Traffic Officers during a shift, including dealing with broken-down vehicles, and visited the South East Regional Control Centre at Godstone near the M25.
Meanwhile Dartford-based Traffic Officer, John Farnaby, became an assistant coach driver for the day as he travelled on two National Express routes between Stansted Airport and London. He helped customers with luggage, checked tickets and got a valuable overview of the coach company's operations.
John said:
I had the chance to see the huge planning side of keeping hundreds of coaches carrying thousands of passengers a day on schedule.

It was a really valuable insight into the challenges coach operators like National Express face on a daily basis and as a result I will be able to provide useful feedback to colleagues about how they operate.
The partnership agreement, signed in September, has already heralded faster information sharing between the two organisations concerning road incidents in real-time and the location of road works. This will enable National Express to plan its routes accordingly – helping to improve the reliability of journeys.
David said:
It was great to be involved in the job swap.

During the day, I supported in the assistance of a broken down vehicle which was interesting – you have to check the driver is ok, ensure they've phoned for recovery and crucially, make sure the site is safe with cones, bollards and lights, as well as report the issue to the control centre.

Visiting the control centre was a real highlight. As a coach driver, traffic is one of the biggest challenges you face so to get to see first-hand how it is managed on a day-to-day basis, including with manually updated electronic road signs, was really valuable.
Almost 400 Traffic Officers per day will be out in force on our roads during the festive period to make sure road incidents are cleared as quickly as possible - and road users are kept safe. They will be supported by more than 200 control room centre staff.
Meanwhile National Express drivers will be working throughout the holidays, including on Christmas Day, after the coach operator announced it was doubling its number of services for the festive season.
General enquiries
Members of the public should contact the Highways Agency Information Line on 0300 123 5000.
Media enquiries
Journalists should contact the Highways Agency press office on 0844 693 1448 and use the menu to speak to the most appropriate press officer.
Published 22 December 2014