High streets get boost from fairer parking
Centrally imposed limits on town centre parking spaces will be scrapped helping to provide a big boost to struggling high streets, Communities…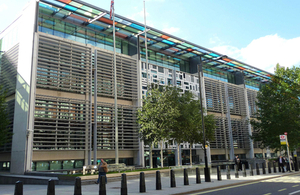 Centrally imposed limits on town centre parking spaces will be scrapped helping to provide a big boost to struggling high streets, Communities Secretary Eric Pickles announced today.
Councils that want to attract customers to local retailers and help stressed out shoppers by providing more parking can now do so without interference from central Government.
National parking restrictions set by Whitehall have until now dictated the number of parking spaces a council is permitted to grant, often with a cap that limits the spaces town centres can offer even when they want to offer more.
The new draft National Planning Policy Framework, recently published, will do away with these anti-car restrictions introduced in 2001 and give high streets a boost to compete for shoppers. It will encourage new investment in town centres, provide more jobs and encourage more charging spaces for electric cars.
The Government believes councils and communities are best placed to set parking policies that are right for their area and based on local need - not Whitehall. Local people know the level of parking that is sustainable for their town centre.
Mr Pickles said:
Families and local firms face a parking nightmare under existing rules. Stressed-out drivers have to run the gauntlet of parking fines, soaring parking charges and a lack of parking spaces. These parking restrictions have hit small shops the hardest, creating 'ghost town' high streets which can't compete with out-of-town supermarkets.

We want to see more parking spaces to help small shops prosper in local high streets and assist mums struggling with their family shop. We are standing up for local high streets.
Town centres are the heart of our communities, and the Government is committed to a 'town centres first' approach. Councils should develop strategies that help their centres grow and encourage competition between retailers. New Neighbourhood Planning powers will also give communities the right to bring the kind of develop they want to their high streets.
The scrapping of parking restrictions follows a similar move earlier this year when limits on car spaces for new homes and guidance encouraging higher parking charges were abolished.
These rules unfairly penalised drivers, led to over-zealous parking enforcement, and increased unsightly on-street parking congestion - putting the safety of drivers, cyclists and pedestrians at risk.
Councils should now take into account the effect of parking charges on the vitality of their local economy and shops. Councils wanting to attract shoppers with competitive local parking charges in town centres can now do so without Whitehall interference.
Ministers believe the current planning system has become too unwieldy and complex. The draft National Planning Policy Framework cuts through the red tape and condenses thousands of pages of planning guidance into one tightly focussed document.
The Framework sets out national priorities, rules only when necessary to do so, and will put more power back into the hands of local people.
Twitter
Keep up to date with the Department by following us on Twitter (external link).
Media enquiries
Visit our newsroom contacts page for media enquiry contact details.
Published 1 August 2011