High-profile guests visit Tobacco Dock
Residents of the temporary military camp at Tobacco Dock in Tower Hamlets, London, have played host to two high-profile guests over the past few days.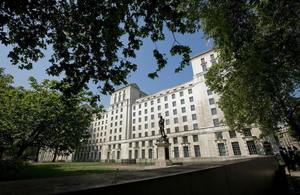 On Friday, Service personnel providing security to the Olympic Games welcomed Mayor of London Boris Johnson, who was keen to tour the facility and meet members of the Armed Forces who are providing security at the Olympic Park, the Olympic Village, the ExCel exhibition centre, the North Greenwich Arena and Greenwich Park.
Warrant Officer Class 2 Jim Tallon showed the Mayor around the catering facilities where his chefs produce meals 24-hours-a-day, getting through half-a-tonne of sausages every breakfast-time and 4,000 portions of beans.
WO2 Tallon said:
It's great to have the Mayor here. I thanked him for the free travel we've all been given in London - that's brilliant, and I asked him if there was any chance he could extend it for after the Games!
Cornet Henry Thomas from the Household Cavalry Regiment has only just arrived at the camp. He and his troop are part of the Military Quick Reaction Force. If G4S or the volunteers fail to show up for a shift, these are the soldiers who are on 15 minutes' notice to move to fill the gap:
The very fact that none of us have been used so far has to be a positive," he said. "It was good to see Boris here taking an interest in all aspects of the Games, not just the sport. We're not assigned to a venue so we don't get to see any of the Games unlike a lot of the Service personnel, but the excitement is still quite high especially now we have medals coming in.
Our tasking was very last minute so it's been a bit difficult. We've just come back from exercise in Canada, and for some of the guys it does clash with leave but we'll catch up with that later. If we could get some tickets it would give the guys a focus - Boris said he would look into it. We'll just have to wait and see.
The Mayor was very impressed with his visit to the camp. Mr Johnson said:
This military camp has everything the heart could desire: lots of food, a bar, a gym, reasonable accommodation, and morale seems very high. I can see from talking to the soldiers here that it must be very exciting to work on the Games. We've given them all free travel as a thank you and I hope that is appreciated.

One of the soldiers was telling me that he was offered a free journey in a London cab. If anything demonstrates the love that the British public have for their Armed Forces it's that a London cabbie is giving free rides.

Thank you very much for all that you're doing getting our chestnuts out of the fire. Can't tell you how much it is appreciated - you've helped us deliver a great Olympic Games so far. You're all really doing a fantastic job making it an even more fantastic Olympics then it already was.
The Mayor sat with soldiers on their downtime in the dining hall at Tobacco Dock to watch the final of the women's double sculls rowing race at Eton Dorney Lake where Team GB once more took gold. The roars of approval were deafening as the girls crossed the finish line in front of the Australian team:
There's an unprecedented mood in London at the moment and people are exhilarated to see GB athletes doing unprecedented things. It was such a privilege to watch the final here today with the troops who are doing such a fantastic job," said Boris Johnson before getting on his bike and cycling off to the Olympic Park.
The following day, Olympian Mark Cavendish also dropped in at Tobacco Dock to have a tour and meet Service personnel taking part in providing security to the Games.
The cyclist's arrival caused much excitement around the camp. One of those looking forward to his arrival was Sergeant Trevor Skeggs of 7th Parachute Regiment Royal Horse Artillery.
Sgt Skeggs, who is on the event security team managing the public at the Stratford entrance of the Olympic Park, is one of Mark's biggest fans:
I love road cycling and I actually do triathlons myself so I know what a tough sport it is. I was there on Saturday in The Mall at the finish line for the men's cycle road race and sat just six seats away from Mark's girlfriend Peta.

We met her after the race and she thanked me and my fellow soldiers for coming along to support Mark in the race. It's so brilliant to meet someone you admire and respect so much in the sporting world.
Lieutenant Colonel Rob Askew runs the temporary camp which accommodates 2,300 personnel and was made ready in record time to accommodate the additional soldiers needed to support the Games.
He said:
All of us think this is a once-in-a-generation opportunity to do something for the nation and I think those who have come into the accommodation that has been provided for them are pleasantly surprised by it. I would pay tribute to all those people who worked so hard in developing Tobacco Dock because I think what has been achieved is very impressive.
During his visit, Mark Cavendish played table tennis and drank tea with soldiers on their downtime in the dining hall at Tobacco Dock and was overwhelmed by the warmth of his welcome:
It was wicked to meet the lads - everyone here is legend," he said. "I can't get over how enthusiastic everyone is about cycling. The welcome I got and the crowds of interested guys asking me to sign their shirts… it's not like I'm a footballer!
Mark commented on how impressed he was with the job the soldiers were doing in the Olympic Park:
It could be so intimidating having all these servicemen everywhere, but far from it - these are the guys who meet you with a smile and a kind word. They're so friendly and helpful when you're going through the security. There's no jobsworths here, they're all so professional and they make me so proud. I'm honoured they are here on the Olympic front line representing my country.
Mark narrowly missed out on a medal in the Games but won the heart of a nation when he came first in the final leg of the Tour de France just weeks ago.
Published 6 August 2012