World news story
High level British delegation visits Sudan
The visit reiterates the UK's commitment to enhancing relations and supporting peace, stability, human rights and economic development for Sudan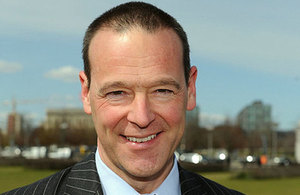 A senior delegation from the UK's Foreign and Commonwealth Office (FCO) and Department for International Development (DFID) visited Sudan on 9-10 January 2017 for wide-ranging talks. Led by FCO Permanent Under-Secretary Sir Simon McDonald and DFID Permanent Secretary Sir Mark Lowcock, the delegation travelled to Khartoum and Nyala, South Darfur.
Reflecting on the visit, Sir Simon said:
I'm delighted to have taken up the invitation extended by my Sudanese counterpart, Ambassador Abd Elghani Elnaim, when we met in London last October. Relations between the peoples of Sudan and the UK are deep and historic, and our meetings over the last two days reflected that breadth. In addition to Sudan-UK bilateral interests, we also discussed human rights, conflict, migration, humanitarian and development assistance, economic matters, and the situation in the region. I am confident that our bilateral relations have a positive future.

In my meetings with Government and the opposition, I urged them to not delay fully implementing the AU Roadmap and taking forward the national dialogue recommendations in an inclusive way. This is a key moment for Sudan to address its political and economic challenges and the opportunity should not be lost. The Government, the opposition parties and the armed movements must place the interests of the Sudanese people foremost and act accordingly.
In Khartoum, the visitors met Foreign Minister Prof Ibrahim Ghandour and senior government interlocutors, as well as opposition figures and civil society representatives. In Nyala, the delegation was received by the Wali of South Darfur Adam Al-Faki and oversaw the launch of a cash-based transfer pilot in Otash camp. Commenting on the launch, Sir Mark said:
I'm proud to have launched in Darfur this innovative cash-based transfer project. Through this pilot, DFID, the World Food Programme and WorldVision, working closely with Blue Nile Mashreg Bank, will provide 75,000 people in Otash Camp with cash assistance, replacing the more traditional food assistance and vouchers, and providing greater choice for people participating in the programme. DFID spends £50 million per year in Sudan, and we are keen to work with partners on delivering more sustainable solutions for displaced persons where the opportunity allows.
This visit by the senior-most officials in the FCO and DFID was the third since the initiation of the Sudan-UK Strategic Dialogue in March 2016, and follows visits by the FCO Africa Director and the UK Special Representative for Sudan.
The British Ambassador Michael Aron emphasised the importance of maintaining high-level engagement:
The UK is strengthening its relationship with Sudan through increased government to government dialogue. This is essential in order to respond to shared challenges including the deteriorating situation in South Sudan, increased migration flows and countering violent extremism.

We are committed to building a dialogue that is frank and open, including on how the UK can support efforts to end conflict and promote peaceful political transition, and the central importance of respect for human rights and political freedoms.
Published 11 January 2017