World news story
British High Commissioner visits centre for street children in Kampala
HE Alison Blackburne saw the work of UK NGO RETRAK at its Bulamu Girls Transit Centre.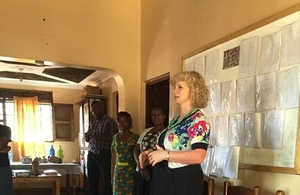 On 20 October High Commissioner HE Alison Blackburne visited Bulamu Girls Transit Centre in Kampala, which is run by RETRAK, a UK-based NGO. At the Bulamu centre, RETRAK provides female street children with a safe place to stay, access to education and medical care. The centre also offer counselling for those girls who have experienced traumatic events. The High Commissioner was welcomed to Bulamu by Florence Soyekwo, RETRAK Country Director, her staff and the girls living at the centre.
The High Commissioner's visit was timed to raise awareness of an Emergency Appeal, launched by RETRAK earlier in October 2016, to raise £16,500 in eight weeks to help fund the Bulamu centre. The centre is expensive to run, and the funds the organisation aims to raise will enable it to run at full capacity into 2017.
RETRAK's mission is to work to transform highly vulnerable children's lives, preserve families, empower communities and give each of them a voice. The organisation defends and promotes the rights of street children, reaching out to those who have been forgotten by their communities and have no one else to turn to. RETRAK's work and research provide a beginning-to-end approach for street children and the wider community, improving lives and supporting children as they reintegrate back into their families and communities. Through its centres in Uganda, RETRAK enables street children to begin their journey back to family care.
Published 21 October 2016