World news story
High Commissioner supports UK company's blood drive
UK staff donate blood at FBW Uganda Ltd blood donor event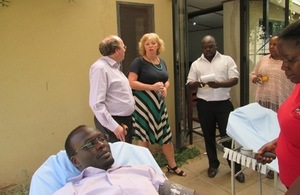 On 13 February, the British High Commissioner HE Alison Blackburne attended a blood donor drive organised by FBW Uganda Ltd, a British Architecture and Engineering company based in Kampala. Accompanied by Eric Olanya, Head of the British High Commission's UK Trade and Investment (UKTI) office, Ms Blackburne saw at first hand the efforts FBW are making to boost blood bank supplies for Ugandan hospitals.
There have been official calls for increased blood donation in Uganda in recent years, to address a shortage of blood available in blood banks. It is hoped that FBW's initiative will encourage other companies operating in Uganda to conduct similar activities to help address the need for increased blood donation in the country.
The British High Commission provides significant support and advice to British companies operating, or seeking to invest, in Uganda. FBW Uganda Ltd was an active partner in the project to build the present British High Commission offices in Kampala.
Published 15 February 2015