World news story
High Commissioner hosts Royal College of Defence Studies
International study group visits Uganda to look at national and regional security issues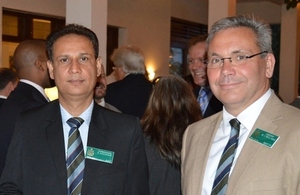 A group of 18 students and lecturers from the world-renowned Royal College of Defence Studies (RCDS) are visiting Uganda from 13 to 19 June, as part of a regional study tour of Sub-Saharan Africa. The students, from Europe, the Middle East, North Africa, North America and South Asia, are all senior military officers or civilian officials in the armed forces and governments of their home countries. Before arriving in Uganda, the group had visited South Africa and Kenya.
On arrival, the students were treated to a cultural evening of traditional Ugandan music and dance, before beginning their work on 14 June with a day of briefings by diplomatic staff at the High Commission. The High Commissioner hosted a reception, which enabled the group to network with Ugandan and international military, government and private sector decision-makers. During the time they spent in Kampala, the students also held separate meetings with senior representatives of the Ugandan government, the UPDF and business. They later visited Jinja, and Murchison Falls National Park, where among other themes, they examined conservation and wildlife security in the park.
The RCDS course is a flagship post-graduate-level international study programme in global strategic studies, provided by the British government. It focuses on political, diplomatic, security, social and economic issues at the highest strategic level, the level at which governments take decisions on these issues both nationally and within the international community. During the course, issues are analysed for their implications in terms of strategy and leadership. The focus of study on the main course is practical rather than theoretical.
Alumni of the RCDS course serve in armed forces and governments around the world, in positions of influence and strategic importance. Several senior officers in the UPDF (Ugandan armed forces) have graduated from the RCDS course in the past. Following a highly successful study visit to Uganda in 2013, the course organisers had been keen to return with a new group of students.
RCDS is committed to developing strategic thinkers and leaders. It seeks to inspire study in an international environment, providing perspectives and insights from around the world, stimulating thinking and stirring debate on contemporary strategic issues. Its aim is to prepare graduates who understand the strategic context, are skilled in analysis and able to work intuitively across national, cultural and ideological boundaries to develop strategy at the highest level.
Published 19 June 2015