World news story
High Commissioner announces 2015 Charlie Perkins scholars
Three Indigenous Australian scholars are heading to the University of Oxford, thanks to financial support from the British Government.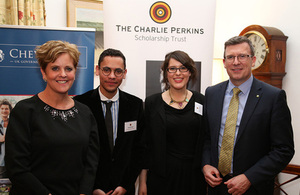 The British High Commissioner to Australia, Her Excellency Mrs Menna Rawlings CMG, has announced the 2015 recipients of the Charlie Perkins Scholarship, a scheme assisting Indigenous Australians to pursue postgraduate study at Cambridge and Oxford Universities.
Jointly supported by the British and Australian Governments and managed by the Charlie Perkins Trust, the scholarship programme was established in 2009 in the memory of Dr Charlie Perkins AO, the first Australian Indigenous man to graduate from university. The scheme is designed to support Indigenous Australians who have the potential to become leaders in their field of study and in their communities. The scholarships are awarded purely on the basis of academic merit.
Mrs Rawlings hosted a ceremony at her residence to present this year's recipients with their scholarships in the presence of the Hon Alan Tudge MP, Parliamentary Secretary to the Prime Minister, recipients' family and friends, and representatives from Indigenous, academic, government, business and arts organisations.
Mrs Rawlings said: "The British Government is very pleased to be involved in this worthy scholarship initiative for a sixth year and I am delighted to announce that we will be sending three impressive scholars to study in the UK at Oxford, one of the world's finest universities."
Each scholarship is valued at over $75,000 per annum for up to three years, and includes travel, tuition and living expenses.
This year's recipients are: University of Sydney graduate Jared Field, University of Western Australia graduate Aurora Milroy, and Flinders University and University of New South Wales graduate Kristopher Wilson.
About the 2015 scholars:
Jared Field, who received First Class Honours in Advanced Mathematics at the University of Sydney, has been accepted into the Doctoral Training Program in Systems Biology at the University of Oxford.

Aurora Milroy, who received First Class Honours in both her Bachelor of Arts (History) and Bachelor of Laws from the University of Western Australia, has been accepted to undertake a Master of Public Policy at the University of Oxford.

Kristopher Wilson, who completed his Bachelor of Laws (Honours) from Flinders University, and Master of Laws (Media and Technology) from the University of New South Wales, is currently completing his first year of a DPhil in Cyber Security (Law) at the University of Oxford.
Published 21 August 2015