News story
Heseltine Review: a new partnership for growth
Lord Heseltine publishes his independent report into economic growth and the UK's ability to create wealth.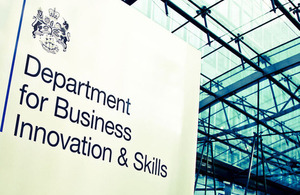 31 Oct 2012
---
---
Lord Heseltine makes the case for boosting growth in Britain's regions. He recommends a major rebalancing of responsibilities between central and local government, and between government and the private sector.
The report, No Stone Unturned in Pursuit of Growth, makes 89 recommendations, including:
A National Growth Council, chaired by the Prime Minister.
Local Enterprise Partnerships (LEPs) to develop their own tailored local economic plans. From 2015-16 they would compete for a share of a single national pot to support growth over a five year period.
Government and the private sector to work together to create a strong, locally based business support infrastructure. The Chambers of Commerce would have an increased role building a stronger relationship between businesses and LEPs in their area.
The Government to set out clearly a comprehensive national growth strategy which defines its role and that of local leaders and the private sector in the creation of wealth.
All sectors of industry to have a formal relationship with a government department.
A restructuring of the regulatory regime.
The planning system to be injected with greater urgency.
Government procurement to be improved by employing an experienced chief procurement officer in every department.
Download the report in full. Lord Heseltine will today present his review to local leaders and businesses with a speech at Birmingham Town Hall.
Commenting on his report, Lord Heseltine said:
"Our ability to create wealth has suffered. Each day more and more of the leading economies are enhancing their skills, adding to their strengths and grasping larger shares of the world's wealth. We need to strain every sinew to get back up there with the world's best. There have been initiatives and experiments for many decades. But successive governments have failed to set out a comprehensive long-term implementation strategy to turn thought into practice.
"My recommendations do not single out a few headline proposals for areas we need to improve on. What we need is a new partnership between the private and public sectors, between local communities and central government.
"Only in this way will we get the best use of our limited public funds and leverage in private investment. I have not left the Government with easy decisions. Some may paint my report as a set of criticisms - that is the wrong approach. To invite criticism is a sign of strength. What I have proposed is an opportunity on a grand scale.
"I have looked across the board at how we create wealth, and spoken from my own experience in business and government. What I have outlined today points the way towards prosperity. We will not just need the determination of government, but of every business, every local leader and every individual to deliver this vision."
The Government will now consider the recommendations.
Links
[Economic development at BIS
](http://www.bis.gov.uk/policies/economic-development)
Published 31 October 2012