Hertfordshire's first virtual court
Court hearings are becoming more efficient and prisoner movements are being reduced in Hertfordshire's first ever virtual court.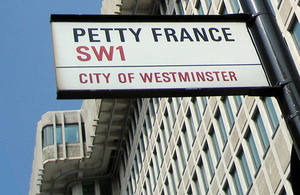 The new virtual court at Hatfield Remand Court allows an accused person, charged in Watford's police station, to have their first hearing within hours of being charged. About 20 cases have been dealt with so far.
The same equipment has been used in the region to enable police officers to provide evidence at court from the police station - a process known as Live Links.
Courts Minister, Jonathan Djanogly said:
'The first virtual court in Hertfordshire demonstrates the Government's commitment to working with local police and the courts to ensure speedy and effective justice.
'Not only do they enable the quick resolution of cases, they also save time as defendants do not need to be transferred between prison and the court.'
Virtual courts and Live Links are part of a wider policy to digitalise, streamline and make the Criminal Justice system more efficient. By the end of spring 2012, the entire system is required to go digital, including through the secure electronic transfer of case files between the police, prosecutors and courts.
Published 11 April 2012