Press release
Hertfordshire paedophile will spend longer in jail
Robert Lindsay has jail term increased after Solicitor General referred his sentence to the Court of Appeal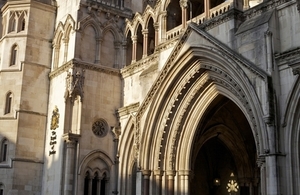 A man who was part of a paedophile ring has had his sentence increased after the Solicitor General Robert Buckland QC MP, appealed it for being too low.
Robert Lindsay, 39, was originally sentenced in December at Luton Crown Court. He was sentenced to 5 years and 3 months in prison with a 3 year licence extension for offences including conspiracy to rape a child, conspiracy to commit sexual activity with a child, making indecent images of a child.
Today, the Court of Appeal increased his sentence to 7 years and 6 months, with a 3 year license extension.
Speaking after the hearing, the Solicitor General said:
This man exploited children for his own sexual gratification. His actions will have had a devastating and lasting effect on their victims. Lindsay's crimes are truly despicable and deserved tougher punishment. Crimes of this nature will not be tolerated, and I hope the increased sentence sends a strong message that perpetrators will be brought to justice.
Published 6 March 2018