Press release
Hero traffic officer commended for bravery
A Highways England traffic officer has being commended for bravery after he pulled a woman from a burning vehicle in County Durham.
This news article was withdrawn on
This document is no longer current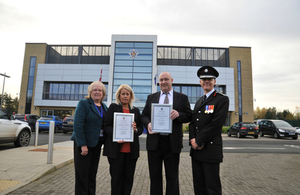 Peter Senior, 49, was off duty and had been enjoying a cup of coffee after parking on the A167 at Thinford near Spennymoor, County Durham, when a car and bike collided yards from him on Wednesday 12 August.
Due to the impact the bike and car immediately exploded into flames. The biker was thrown into the air and the female driver was left trapped as the bike embedded itself in the driver's side.
Peter's training as a professional on the roads helped him act swiftly to get the driver out of the burning wreckage and seconds later he assisted the paramedics with getting the motorcyclist to safety.
Chief fire officer of County Durham and Darlington Fire and Rescue Service presented Peter with a certificate of merit at fire service headquarters in Belmont, Durham.
Chief Fire Officer Stuart Errington, said:
I am pleased to present Peter with this special award. His quick thinking actions and selfless disregard for his own safety ensured the best possible outcome in this very dangerous situation.

All of our human instincts are programmed to make us turn away from fire, so it is a special person who can overcome that instinct and run towards the danger in a bid to help. Of course we would always advise members of the public to wait for assistance from our professionally trained firefighters whenever possible but we would like to recognise the bravery of Peter in this very special case.
Peter, who has worked for Highways England for nearly 6 years, knew his first priority had to be to get the driver out as the driver's side was ablaze.
He ran to the passenger side of the car and shouted at the female driver, who had frozen at the wheel, to climb out. The driver started to climb over and Peter grabbed hold of her arm and pulled her to safety.
Peter doesn't consider himself a hero. He said:
I am sure a lot of people would have done the same in my position.

In my job I have been in quite a few emergency situations so I would like to think I could act relatively calmly in a situation like that.
Highways England Director of Customer Operations, Mel Clarke, said:
This was a swift, brave and selfless act by Peter which may well have saved lives that day and we are delighted that he is being commended for his actions.
Highways England traffic officers patrol major roads around the country through the day and night – and are there to help deal with incidents and keep traffic moving.
General enquiries
Members of the public should contact the Highways England customer contact centre on 0300 123 5000.
Media enquiries
Journalists should contact the Highways England press office on 0844 693 1448 and use the menu to speak to the most appropriate press officer.
Published 13 November 2015