World news story
Her Majesty The Queen sends message to the Venerable English College
A message from The Queen was delivered by His Royal Highness The Duke of Gloucester to the Venerable English College in Rome on College's 650th anniversary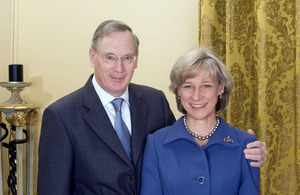 On Saturday 1 December, The Duke and Duchess of Gloucester attended the Feast of the English Catholic Martyrs at The Venerable English College in Rome, and celebrated the 650th anniversary of the Foundation of the College.
On their arrival, Their Royal Highnesses, accompanied by the British Ambassador to the Holy See Nigel Baker, were met by the Rector of The Venerable English College, Monsignor Nicholas Hudson, His Eminence Cormac Cardinal Murphy-O'Connor, Archbishop Emeritus of Westminster, and the Most Reverend Vincent Nichols, Archbishop of Westminster.
Their Royal Highnesses attended Mass commemorating the English Catholic Martyrs in the Church of St Thomas of Canterbury, and attended the official celebration for the Feast of the English Martyrs. During the celebratory event, His Royal Highness The Duke of Gloucester read a message from Her Majesty Queen Elizabeth II, marking the 650th anniversary of the College's foundation as an English and Welsh pilgrims' hospice, and highlighting the strength of the relationship between the United Kingdom and the Holy See.
The full message reads:
"In 1362, English residents in Rome established a "Hospice of the English" to care for English pilgrims. The Royal Arms of King Henry IV still adorn your walls to mark the 50th anniversary of that foundation and the close relationship with the Crown. The English Hospice was the origin of what has now become the Venerable English College, following its re-foundation by Pope Gregory XIII in 1579.
The presence of The Duke of Gloucester at your Martyrs' Day Feast in this 650th anniversary year is a sign of the strength of the relationship between the United Kingdom and the Holy See. It is also recognition of the high esteem in which the Venerable English College is held as a training ground for pastors, priests and future leaders of the Catholic Church of England and Wales. You have always served as a generous and hospitable home away from home for generations of visitors to Rome, even in the most difficult times.
My good wishes go to you all, alumni, staff and students of the Venerabile, past, present and future, for your continuing prosperity.
ELIZABETH R."
On the first day of their visit to Rome, The Duke and Duchess of Gloucester attended a St Andrew's Day Reception at the Pontifical Scots College, where they formally inaugurated the refurbished Henry Benedict lecture hall, and unveiled the restored arms of Cardinal York.
Published 1 December 2012