World news story
Her Majesty The Queen congratulates KK on his 90th birthday
This was published under the 2010 to 2015 Conservative and Liberal Democrat coalition government
HM Queen Elizabeth II has congratulated first republican president Dr Kenneth Kaunda on his 90th birthday.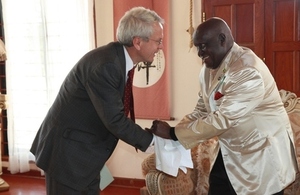 In her message personally delivered to Dr Kaunda by James Thornton, British High Commissioner to Zambia on 2 June, the Queen said:
"Philip and I have heard you recently celebrated your 90th Birthday. Yours has been a most eventful life, inextricably interwoven with the history and development of your nation, which you served as President for 27 years. In this, the 50th year of Zambia's independence, I am delighted that the links between our countries remains so strong. Elizabeth R."
And on delivering the message from the Queen, Mr Thornton said.
"I feel honoured to be the one to deliver this message to you following your 90th birthday and in the year of Zambia's jubilee celebrations. The United Kingdom is here to celebrate with Zambia. The relations between our countries are very strong.
Zambia is an important member of the Commonwealth, for which you worked so hard as President, and which plays such a valuable role in bringing together countries with widely different circumstances but which share common values."
Afterwards Mr Thornton expanded on the strength of UK relations with Zambia. He referred to the substantial government-to-government links, including through the large UK co-operation programme here in Zambia. He also talked about the many individual Britons who ran their own development projects in Zambia entirely independently of the British government.
Mr Thornton noted the personal links between the British Royal Family and Dr Kaunda. Recent manifestations of this included the visit by Princess Anne, the Princess Royal, to Dr Kaunda in hospital at the beginning of her visit to Zambia in September 2012; and the attendance by Dr Kaunda at a lunch given by Mr Thornton for Prince Edward, the Earl of Wessex, during the latter's visit to Zambia in October last year.
Further information
Chronology of the Royal family's visits to Zambia
• 1964 - Her Royal Highness Princess Mary presented to new president of Zambia, Kenneth Kaunda, instruments of Independence on behalf of the Queen. She also read a personal message of the Queen as the UK welcomed the newest member of its Commonwealth
• 1979 - Her Majesty Queen Elizabeth II attended the Commonwealth Conference in Lusaka from 27 July - 4 August 1979
• 1985 - Her Royal Highness Princess Anne's first official visit to Zambia. She stayed with the Kaundas and visited Mwinilunga, the Copperbelt, and Katete as well as Lusaka
• 2007 - HRH The Duke of Gloucester arrived in Zambia on 3 May for a five-day official visit
• 2012 - Her Royal Highness Princess Anne, Princess Royal, paid an official visit to Zambia from 24 – 28 September 2012 as part of Her Majesty Queen Elizabeth II's Diamond Jubilee. She visited Dr Kaunda, who was then in hospital following the death of Mama Betty Kaunda.
• 2013 - His Royal Highness The Prince Edward, Earl of Wessex visited Zambia. Prince Edward is the youngest son of Queen Elizabeth II. Dr Kaunda attended a lunch given for him by the British High Commissioner.
• The British High Commission presented a birthday cake to Dr Kaunda during its celebration of the Queen's Birthday in April this year. Dr Kaunda and the High Commissioner proceeded to feed cake to each other!
• For further information, please contact the British High Commission on +260 211 423200 or follow us on Facebook and Twitter: @UKinZambia.