World news story
Her Majesty Queen Elizabeth II's 90th birthday celebration in Lahore
The British High Commissioner hosted a party in Lahore to celebrate Her Majesty Queen Elizabeth II's 90th birthday, alongside Chief Guest, the Chief Minister of Punjab, Mian Shehbaz Sharif.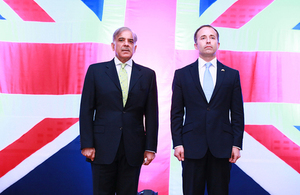 Guests from all over Punjab joined the celebrations, including representatives from the Punjab Assembly and leading members of the provinces military, civil society and business communities. 2016 marks the 64th anniversary of Her Majesty's accession to the throne, when she became both the British Sovereign and the Head of the Commonwealth.
The British High Commissioner, Thomas Drew CMG, and the Chief Guest, the Chief Minister of Punjab, Mian Shehbaz Sharif toasted HM Queen and President Mamnoon Hussain.
Speaking on the occasion of Her Majesty The Queen's birthday, the British High Commissioner to Pakistan, Thomas Drew CMG said:
A lot has changed in this part of the world since the Queen was born in 1926. A country that did not exist is now the 6th biggest in the world. And even since the Queen first visited Pakistan in 1961, Lahore has grown from a city of 1.5m people to one of over 10m. The ties between our two peoples too are unrecognizable, Britons of Pakistani origin numbered around 25,000 in 1961. They now make up over 2% of our population, and many have their roots in Punjab. The ties are different, but just as intense. We are perhaps even more interdependent.

One thing that has not changed is Lahore's unique buzz. It is a city that exudes energy, creativity and culture. What has changed, however – and I hope you will forgive my first impressions – is a sense of hope and change. Things are happening here. Things are getting done. It is good to come back to the feeling of a city, province and country that are starting to fulfil their potential.

That potential is exciting. You just need to look at the map to see it. Indeed, I gather that if Punjab were a country it would be the 11th most populous in the world.

That Pakistan does fulfil its potential is of enormous importance to the UK. The nice thing about being a British diplomat in Pakistan is that our interests really are aligned. It really is the case that what is good for Pakistan is good for the UK and vice versa. And I am not just talking about my ambition to have the England cricket team come back to play a match here at the Gadaffi stadium.

Of course, the cynics among you will say that all of our ambassadors around the world are saying things like this on the Queen's birthday. Perhaps, but I am lucky enough to have the resources to support it. That is why we have our second biggest diplomatic mission anywhere in the world here,that is why we have our biggest bilateral development programme anywhere in the world here – a large part of which is focused on Punjab. And it is why we continue to build.

We have just opened a British Business Centre in Pakistan to help British and Pakistani companies do business with each other. It today signed a memorandum of understanding with the Lahore Chamber of Commerce and Industry. We are about to open a new British Council Library here in Lahore, as well as one in Karachi.

In short, the British Government is behind Pakistan and wants to make a difference – for Pakistan, for the UK, for Punjab and for Lahore. And it is even better that we can do it with friends like everyone here tonight.
NOTES FOR EDITORS
Published 27 April 2016