Press release
Helping everyone build a worthwhile pension pot: DWP consults on draft laws to remove restrictions on NEST
Plans to help millions of British workers save more towards their pensions are set out in a consultation launched today (9 October 2014).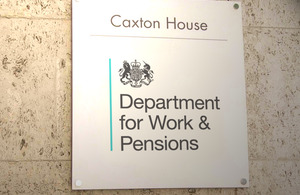 The government intends to remove the annual contribution limit and transfer restrictions on pension schemes held with the National Employment Savings Trust (NEST).
The move will help the staff of more than 8,900 employers which currently administer their pension schemes through NEST to save more for their retirement than the current £4,600 a year cap allows.
Under the plans, these workers will also gain the same transfer rights as members of other schemes, helping them to consolidate their savings if they wish.
The consultation, which runs until 29 October 2014, invites views from legal advisers, pensions industry professionals, trustees and scheme managers on the draft Statutory Instruments that will remove the restrictions.
Having secured the support of the European Commission for the changes, following a year of negotiation, the government intends to lay legislation before Parliament in the new year.
Minister for Pensions Steve Webb said:
NEST has been a force for good in pensions, helping to ensure the successful introduction of the government's automatic enrolment policy and bringing millions more people into pension saving.

While these constraints were essential as we got auto-enrolment up and running, their removal will ensure that in future people saving with NEST get the same rights as members in other schemes and can make the most of their savings.

Removing the contribution limit will help people save more, while lifting the ban on transfers will help people to build up worthwhile pension pots in one place and get better value for their savings.
NEST was set up by the government to support automatic enrolment by providing a quality, low-cost pension scheme, primarily for smaller employers, in a market which at the time was deemed unprofitable by many private sector providers.
The restrictions were originally imposed to ensure NEST focused on its target market. They were cited by the European Commission as reinforcing how government sought to minimise any competitive advantage that could be gained by NEST through its state aid.
But reflecting changes in the market since then and the disadvantage caused to NEST savers by these 2 constraints, last year the government announced its intention to lift them from 2017. In September, the European Commission confirmed it would not oppose the move.
The 2 draft statutory instruments are The National Employment Savings Trust (Amendment) Order 2015 and The Transfer Values (Disapplication) (Revocation) Regulations 2015. They are included in the consultation document.
Automatic enrolment into workplace pensions began on 1 October 2012 and will apply to all employers by February 2018.
Visit the NEST website for more information about their activities.
Contact Press Office
Media enquiries for this press release – 020 3267 5120
Press Office
Caxton House
Tothill Street
London
SW1H 9NA
London Press Office (national media and London area enquiries only – not questions about personal claims) 020 3267 5144
Out-of-hours (journalists only) 076 59 108 883
England and Wales (local media enquiries) 029 20 586 then 097 or 098 or 099
Scotland (local media enquiries) 0131 310 1122
Follow DWP on:
Published 9 October 2014