Press release
Help sought to find source of Derwent Pollution
The Environment Agency has issued an appeal for information following the oil pollution in the River Derwent yesterday.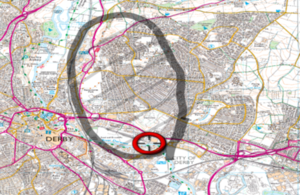 The pollutant, which is suspected to be waste engine oil, entered the river from a surface water drain which channels the water entering the roadside drains into the River Derwent from the East Derby and Chaddesden area.
If anybody has seen any oil entering the drains in this area either through an accidental leak from a nearby business or the intentional dumping of waste oil, could they please contact the Environment Agency on 0800 80 70 60 or call Crimestoppers on 0800 555 111.
Paul Reeves, site controller for the Environment Agency, said:
It is important to find the exact source and deal with it, especially if it could lead to further oil leaking into the drains, and we would appreciate the help of the public if they have seen anything relevant to our enquiries in the East Derby and Chaddesden area.

It is also important to remember that anything that is put down a roadside drain is likely to flow straight into a river; these drains are for rain water only and should never be used to dispose of anything.
Environment Agency teams have now contained the oil and are working to clear it up with absorbent pads. Floating booms also surround the surface water drain where the initial oil came from to ensure that any new oil washed through is contained immediately.
Severn Trent Water is currently working with the Environment Agency to help identify exactly where the used engine oil entered the drainage system.
Zelia Lyne from Severn Trent commented:
We're continuing to work with the Environment Agency to clean up the area affected and flush the surface water sewer to reduce the impact the used engine oil has had on the local environment.
We can't stress enough that only rainwater should pass through our surface water sewers because it flows straight into the River Derwent and is not the place to dispose of oil or anything else other than rainwater. We'd really encourage anyone with any information to speak to the Environment Agency or ourselves.
For businesses who wish to use this as an opportunity to ensure their oil tanks are secure and how to dispose of unwanted oil, further information can be found at oilcare.org.uk.
Published 27 July 2016