Press release
Help reduce flood risk in Sheffield
Volunteers needed for the Riverlution Project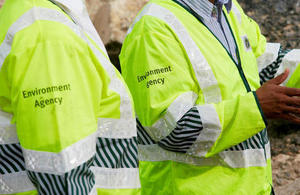 The Community Riverlution Project in Sheffield kicked off to a wet but busy start in May with five volunteers turning out at Chapeltown Park to help look after Blackburn Brook.
The Riverlution Project is focussing on watercourses in Chapeltown, Parson Cross, Ecclesfield and Kelham Island, to help reduce flood risk, and more volunteers are needed.
Through a series of practical volunteer days, the Environment Agency is working with the River Stewardship Company to remove blockages, tackle invasive species and provide training to local residents about flood resilience.
So far there have been seven sessions involving 19 people but more are needed. So if you live in Chapeltown, Parson Cross, Ecclesfield or Kelham Island and are free on Tuesdays, Thursdays or Saturdays please do get in touch. Sessions are from 10am until 1pm but you can come for as much time as you can spare.
Equipment is provided, along with a hot cuppa and biscuits to keep you going. So if you would like to join in, please contact Hellen Hornby on 07766 35 29 32 or 0114 2636 420 or email hellen.hornby@the-rsc.co.uk.
These sessions offer a great opportunity to meet representatives of your local flood warden group. Flood wardens play a vital role within flood risk management: they act as our eyes and ears in areas at risk from flooding, keep our incident rooms updated on the situation in their area, and when it's not flooding, help to build up local resilience and raise community awareness of flood risk.
For any further information about the flood warden role or if you would like to volunteer to become a flood warden please contact Lizzy Haynes at the Environment Agency on 0113 819 6085 or via email at elizabeth.haynes@environment-agency.gov.uk.
Published 5 June 2014