News story
Help make Companies House better: take part in our survey
Complete our Customer and Stakeholder Opinion Survey and enter a free draw to win an iPad Pro.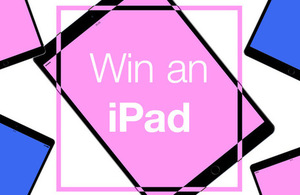 This survey is now closed.
If you've recently started a company, just filed your annual accounts or even searched for company information online, we'd like to hear from you. Tell us what you think about Companies House, our services and how we communicate with you.
The survey will take around 10 minutes to complete.
Your views and comments are important to us. The feedback you give will help us improve our products and services. It will also help us make better-informed decisions about how best to communicate with our customers and stakeholders.
As part of our transformation programme, we're aiming to make all of our systems and services digital first, easy to use and developed entirely around our users' needs. To do this, we need your input.
Tell us what you think about our services - what's good, what's not so good and what needs improving.
This insight will help us to plan and prioritise our transformation activities over the next few years. It's your chance to tell us what you need, and help shape the future development of Companies House services.
At the end of the survey, you'll be able to enter a free draw to win an iPad Pro (read the terms of the free draw).
We'll only use your email address for the purposes you specify (read the privacy notice).
Published 9 May 2018
Last updated 11 October 2018
+ show all updates
Survey is closed.
First published.