Press release
Help is on the way to navigate the River Wye
The Environment Agency is finalising the designs of 3 new information boards for river users and visitors to the River Wye.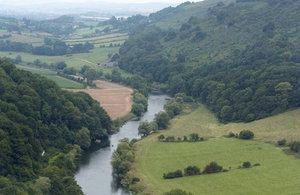 The boards have been developed in consultation with a wide range of partners including Natural Resources Wales, Wye Valley Area of Outstanding Natural Beauty, Brecon Beacons National Park Authority, Hay Town Council, Herefordshire County Council and Monmouthshire County Council.
It is hoped that the bi-lingual boards will be ready for installation by October, and will be installed at access points on the River Wye at Hay-on-Wye, Hereford and Monmouth. Along with local information and guidance for visitors, the boards give out strong messages in relation to caring for wildlife, personal safety, keeping the river healthy and consideration for other river users, visitors and anglers.
The Environment Agency has navigational responsibility for the River Wye. This means developing and maintaining sustainable recreation and navigation on the river with the help of the Wye Navigation Advisory Committee, a group whose members represent a wide range of user interests, as well as wildlife and conservation interests.
Lynn Bulbeck, from the Environment Agency said:
The boards are providing key information to visitors and many river users along the River Wye. Canoeists will find the boards particularly useful as it highlights areas where they can get in and out of the water easily. With our partner organisations, we have ensured that the boards are both visually pleasing and informative.
Cllr Robert Golesworthy, Mayor of Hay said:
Working in partnership with the Environment Agency we have achieved our goals of improving access to and usage of the waterfront in Hay. Without this help and support it would have been impossible to succeed.
Members of the public are encouraged to visit the area, and when the boards are installed, they can read about and see some of the wildlife that may be around and which make the River Wye unique and of international importance.
For details of access points, events and facilities visit the River Wye information page
Published 20 August 2015