World news story
Hello...Goodbye! New Policy Officer in the Governor's Office
Our current Staff Officer, Tom Hines is all set to move back to London, and we welcome our new Policy Officer, Joanne Vaughan.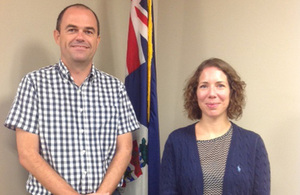 The New
The Governor's Office welcomes a new staff member this week. Joanne Vaughan joins us as Policy Officer and will support the Governor on areas such as environment, prisons and parole, human rights and Freedom of Information. She will also be responsible for managing the allocation of FCO funds for projects in Cayman. Joanne comes to us with experience of working in the UK Department for Business, Innovation and Skills and moved to Cayman in April this year with her family. Joanne joins Gary Benham, Head of Governor's Office, Gillian Skinner, Assistant Management Officer, Penny Knight, Personal Assistant and Jacqueline Hennings, Social Secretary.
The Old
Many of you will be very sad to hear of the departure of Tom Hines, Staff Officer. Tom has finally made his great escape and will be returning to the FCO in London to take up his new appointment as Desk Officer for Rwanda and Burundi. We wish Tom all the best in his new role and are truly sorry to see him go.
Published 17 December 2013