Helicopter safety teams get new home in Portsmouth
Defence Estates (DE) has completed a new home in Portsmouth for the experts responsible for helping to maintain the safety of aircrew flying the UK's fleet of military helicopters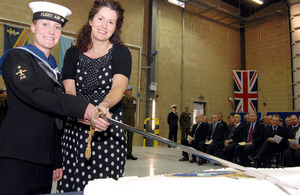 Working with regional industry partner Debut Services (South West) Limited, DE has refurbished the former Apprentice Training Centre (ATC) building in Portsmouth Naval Base.
The Fleet Forward Support (Air) Unicorn Building now forms the base for experts from the Materials Integrity Group (MIG) and Forward Support (FS) Mobile Aircraft Support Unit (MASU).
It represents the MOD's centre of expertise for helicopter structural repair and modifications. Experts deploy to operational theatres to carry out helicopter repairs.
They also provide an important role in crash investigation, airworthiness assurance and modification of Royal Navy, Army and Royal Air Force helicopters.
Lieutenant Commander Andrew Dunn, Royal Navy Repair Manager, said:
This project has been challenging to deliver on time and without any disruption to our business, which is critical to delivery of MOD Aviation. The teams from Defence Estates and Debut have delivered a superb new facility which entirely meets our needs and we are delighted with it.
The formerly unoccupied ATC building now provides facilities for up to 200 military and civilian staff from MIG and FS MASU. It incorporates offices and classrooms; specialist laboratories; workshops; welfare facilities and storage for materials, gases and flammables.
Admiral Sir Trevor Soar, Commander in Chief FLEET opened the building at a recent ceremony, which marked the teams' move from the Defence Aviation Repair Agency (DARA) Fleetlands site in Gosport, which is being vacated by the Ministry of Defence.
Steve Curtis, Defence Estates' Project Manager, commented:
Critical to the success of the whole project was being able to maintain the agreed programme. So many key dates had to be achieved - especially with the relocation of specialist equipment - to ensure the team's work could continue with minimal disruption.
He added that the delivery team managed by Debut Services, with their supply chain partners Morgan Ashurst and Mitie had done an outstanding job.
Paul Nix, Debut's Core Works Director, added:
This has been an exceptionally successful project for our team, with the completion date being achieved and our customers moving in on time. The building was also delivered within the budget and we delivered a good quality project, which in turn ensured that we have a delighted customer.
Published 30 July 2010