Hefty fine for Scunthorpe haulage company
Transport firm fined after putting lives at risk by breaking road safety rules.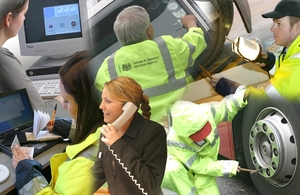 A Scunthorpe haulage firm has been fined £15,000 for flouting drivers' hours laws which could have led to serious or fatal accidents.
Bosses of Flixborough-based Intake Transport pleaded guilty to 30 offences of drivers exceeding legal daily driving periods and not taking the necessary rest.
They were sentenced at Scunthorpe Magistrates court on 17 May 2010 where the firm was fined £500 for each offence and ordered to pay a further £30,000 towards prosecution costs.
Two of the firm's drivers appeared at court and pleaded guilty to creating false drivers' hours records.
Fines were also handed out to 6 further employees for driving for too long and not taking proper rests. The drivers were fined a total of £3,290 including costs and victims surcharge.
It follows an 18 month investigation by VOSA. Examiners from VOSA began looking at the company's records in December 2008 and discovered that it had been ignoring the regulations which protect the safety of drivers and other road users.
VOSA Chief Operating Officer Alex Fiddes said:
Tired drivers run the risk of causing serious or fatal accidents. This case shows what a dim view the courts take of drivers and operators who abuse drivers' hours rules and don't take proper rests.

VOSA is determined to find and prosecute those people who endanger the lives of other road users in this way.
Intake Transport will now face a public inquiry before the Traffic Commissioner where it could have its licence to operate revoked.
Notes to editors
VOSA is responsible for:
processing applications for licences to operate lorries and buses and registering bus services
operating and administering testing schemes for all vehicles, including the supervision of the MOT testing scheme
enforcing the law on vehicles to ensure that they comply with legal standards and regulations
enforcing drivers' hours and licensing requirements
supporting Traffic Commissioners to help them make informed decisions on operator licensing, vocational drivers and bus registration requirements
providing training and advice for commercial operators
investigating vehicle accidents, defects and recalls
VOSA media enquiries
You should contact our press office if you have a media query or you're a journalist.
Published 3 June 2010