News story
Hearing Aid Council to close
Winding up has been underway since 1 April this year when responsibility for the regulation of hearing aid dispensers was transferred to the…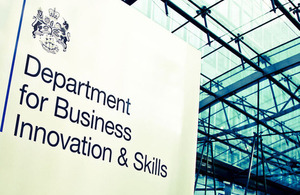 Winding up has been underway since 1 April this year when responsibility for the regulation of hearing aid dispensers was transferred to the Health Professions Council (HPC). The decision to close the Council was announced in 2005 in response to recommendations made by the Hampton Report on Regulatory Inspections and Enforcement. It concluded that the overall number of regulating authorities should be rationalised.
Consumer Minister Edward Davey said:
"I am grateful for the hard work and dedication of the Hearing Aid Council over the last 40 years. In recent months the staff have also worked professionally to prepare industry, consumers and stakeholders for the transfer of powers to the Health Professions Council.
"The Government is committed to reducing the number and costs of quangos. Steps to abolish the Hearing Aid Council precede the current Government, but its abolition is nevertheless a small step towards that commitment. The public are better protected and the financial burden on industry has been substantially reduced."
Notes to editors:
---
1) The Hearing Aid Council (HAC) have been the statutory regulator of hearing aid dispensers in the private sector since 1968 and operated as an Executive Non-Departmental public body from 2003. The Hampton Report on Regulatory Inspections and Enforcement in 2005 recommended that the HAC be abolished and its regulatory powers transferred elsewhere.
2) On 1 April 2010, those regulatory powers transferred to the Health Professions Council (HPC). Since April the HAC has existed as an administrative body only (with no regulatory powers) to enable itself to be wound up effectively. That winding-up period ends with the HAC's abolition on 1 August 2010.
3) For further information contact Olivia Campbell on 020 7215 5363 or Olivia.campbell@bis.gsi.gov.uk
4) BIS' online newsroom contains the latest press notices, speeches, as well as video and images for download. It also features an up to date list of BIS press office contacts. See http://www.bis.gov.uk/newsroom for more information.
Notes to Editors
Contact Information
Name BIS Press Office Job Title
Division COI Phone
Fax
Mobile
Email NDS.BIS@coi.gsi.gov.uk
Name Olivia Campbell Job Title
Division Department for Business, Innovation and Skills Phone 020 7215 5363 Fax
Mobile
Published 30 July 2010