Health portfolio review 2009
The health portfolio review was carried out in 2009 to assess the value for money of DFID's investments in health, and to identify ways to get even better value for money.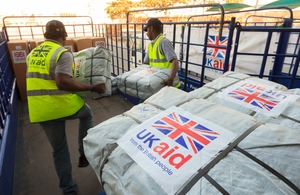 The health portfolio review was carried out in 2009 to assess the value for money of DFID's investments in health, and to identify ways to get even better value for money. It covers bilateral, multilateral and research programmes. Ensuring good value for money is a priority for this government. The findings of this portfolio review are being used to inform the current reviews of the bilateral and multilateral programmes. The following summary of the 2009 work refers to DFID's portfolio at that time, and in the policy context of the previous government.     
Open publication - More reproductive
Disclaimer: The content of this report was correct at the time of writing. However, aid statistics are revised over time and may therefore vary from data recently published in Statistics on International Development (SID).  And priorities and spending commitments that were current at the time may have been superceded by new Coalition Government priorites and commitments.
Why this review?
DFID provides approximately £1 billion a year to improve health in developing countries, about 15% of the UK's total development assistance. Making the most of the money - spending it in the most effective and efficient way to achieve the most impact - is a priority for the UK government.
In 2009, DFID undertook a review of its health portfolio - all its spending at country and global levels in health related programmes. Findings are being used to support DFID's focus on achieving and demonstrating the results of UK development assistance for health. The purpose of the review was to assess the results of DFID's spend in health, and how DFID could better allocate resources to further improve value for money in the future.
The review posed three questions:
Investing for results: are DFID funds being invested in the countries and health issues where their impact is likely to be greatest?
Backing the most cost-effective policies: are DFID funds being used to support the interventions and the policies with the greatest potential impact on people's health?
Improving efficiency: are these policies and interventions being delivered in a way that minimises unit costs, so as to deliver more outcomes for the money available?
DFID channels its funds through:
the bilateral programme (mainly to countries);
the multilateral system (the European Commission, UN system and global health initiatives);
and to health research.
In 2008/9, £720 million was spent bilaterally on health, £240 million multilaterally, and £50 million on research. DFID staff have also helped national governments and other funders improve the value of their investments in health.
DFID is achieving results
In 2007/8, DFID's country programmes:
delivered almost seven million insecticide-treated bednets in Africa, preventing around 80,000 deaths from malaria
vaccinated over 3 million children against measles, preventing around 30,000 deaths from measles
trained over 60,000 health professionals
provided antiretroviral drugs (ARVs) to extend the lives of almost 100,000 people living with AIDS
distributed half a billion condoms, preventing unwanted pregnancies and sexually transmitted infections including HIV.
Through financial aid for health, DFID funded government health expenditure for around 60 million people in 2007/8. DFID's multilateral spend is also achieving some impressive results. DFID's support to the GFATM saved over 200,000 lives between 2001 and 2008. Support to the GAVI Alliance for immunisation between 2000 and 2008 prevented 130,000 future deaths.
Published 4 November 2010