World news story
Head of DfID Sierra Leone speaks at National Civil Society Forum
Annual event run by ENCISS (Enhancing the interface and interaction between Civil Society and the State to improve poor people's lives).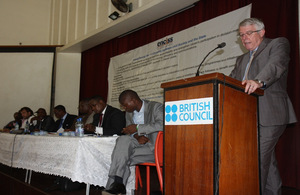 Today, Dr. Phil Evans, Head of DfID Sierra Leone spoke at the National Civil Society Forum. Policy development forums bring together ENCISS grantees with other civil society, donors and state actors around a specific theme, relevant to the programme.
Below are excerpts from the statement:
"Your Excellency the Minister of Information and Communication, distinguished guests, ladies and gentlemen, let me begin by saying how pleased I am to join you today at this important forum. The British Government - through DFID – has been proud to support ENCISS over many years. We have seen it grow into a vital focal point for civil society empowerment, playing a critically important role in Sierra Leone's national development.
ENCISS is now a truly national initiative, able to mobilise the voices of civil society across the whole country in contributing to the national debate on the country's future and helping government stay on course.
From our point of view in DFID, we see ENCISS not just as a powerful voice in its own right, but also as a hub that helps link together a number of other issues and themes which we see as of key importance to Sierra Leone's continued growth and development.
Such is our faith in the work that ENCISS is doing that our Secretary of State for International Development recently agreed to extend the ENCISS project for a fourth year. We will continue to play our part, including by significantly increasing our aid contribution to Sierra Leone's national development as the UK moves forward this year to meeting its promise to devote 0.7% of our national income to international development. This means that in the current financial year we will be increasing our aid to Sierra Leone by 25% from £56m last year to nearly £80m this year.
On behalf of DFID and the UK government, I extend our best wishes for a successful forum and for continued progress in the years ahead."
Published 14 June 2013
Last updated 14 June 2013
+ show all updates
edited text
edited text
Edited Text
First published.