World news story
HC Judith Macgregor presents credentials to HE President Zuma
High Commissioner Judith Macgregor CMG LVO has presented letters of credence to His Excellency President Jacob Zuma in Pretoria.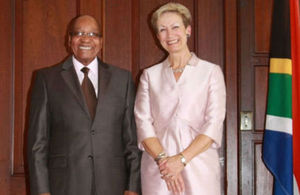 High Commissioner Judith Macgregor CMG LVO today presented letters of credence to His Excellency President Jacob Zuma at the Presidential Guesthouse in Pretoria.
At the credentials ceremony, the High Commissioner noted how delighted she was to have been appointed as Her Majesty The Queen's representative to South Africa. She said that "the United Kingdom's relationship with South Africa is enormously important, and covers an ever increasing range of activities and co-operation. I look forward to working with the government and people of South Africa to continue to strengthen our warm and long-standing partnership, especially in the areas of prosperity, security and education, and to discovering new opportunities for both our countries."
President Zuma agreed that the bilateral relationship was characterised by the traditionally warm and friendly ties that exist between South Africa and the United Kingdom and that people to people contacts were very important.
The High Commissioner highlighted the wide-ranging and diverse relationship between the United Kingdom and South Africa as recognised by Foreign Secretary William Hague and Foreign Minister Maite Nkoana-Mashabane at the bilateral forum last month. This included the shared objectives of youth empowerment and development, which President Zuma noted as a "critically important area" during the recent visit to South Africa of Their Royal Highnesses The Earl and Countess of Wessex. President Zuma welcomed the collaborative efforts on youth empowerment and looked forward to the creation of more partnerships between the United Kingdom and South Africa akin to that of the President's Award and the Duke of Edinburgh Award.
While addressing the UK priorities for her term, the High Commissioner made special mention of the importance of the prosperity agenda within the broader bilateral relationship, saying:
"The United Kingdom and South Africa have a shared ambition to double bilateral trade by 2015 and work towards jobs-led growth in both our countries. This includes supporting British and South African businesses prosper in our respective countries and develop the education and innovation partnership for the benefit of British and South African communities."
Hight Commissioner Judith Macgregor concluded by saying that she looked forward to working with South Africa bilaterally but also as an international partner in the Commonwealth, G20 and other international organisations.
HC Judith Mcgregor discussed UK in South Africa priorities
Click here for more photographs of ceremony
Published 17 October 2013
Last updated 18 October 2013
+ show all updates
Video Blog Added
First published.