News story
Hayes sets out further freedoms for Further Education
Mr Hayes said that colleges will be given more freedoms to deliver the learning that meets the needs of local people and employers through simplified…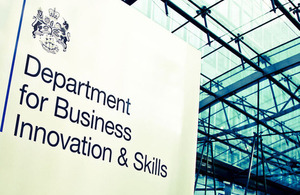 Mr Hayes said that colleges will be given more freedoms to deliver the learning that meets the needs of local people and employers through simplified governance, quality assurance and data management arrangements.
He also promised a new package of reforms when the Government publishes its response to the New Challenges, New Chances consultation later this year. These represent the next stage of the ambitious reform programme set out in Skills for Sustainable Growth in November 2010.
Skills and Further Education Minister John Hayes said:
"Further education is moulding the future of communities and the country. Over the last year we've seen remarkable progress. But there are still too many rules putting the brakes on progress and stifling innovation.
"I want to liberate colleges to be free to do what is right for their communities now. The changes we propose are radical, and by the end of this Parliament will transform the further education landscape."
Under new measures discussed today colleges will be able to react quickly to ensure they are meeting the skills needs of local employers, including those in new industries. They will be able to draw down student funding for programmes that meet a particular employer skill need whilst they simultaneously developing the qualification.
Colleges are already taking advantage of additional freedoms and taking a leading role in improving the way they are managed as the Foundation Code of Governance, recently developed by the AoC Governors' Council, attests.
---
Notes to editors:
The New Challenges, New Chances consultation, published in August, sought the views of the sector on a range of issues including the introduction of loans for students in further education. The Government's full response will be published shortly.
On Wednesday 16th November the Department for Business will be hosting an Apprenticeships Summit from 9.30am to discuss giving employers greater ownership and further reducing bureaucracy in the apprenticeship programme. Business Secretary Vince Cable, Education Secretary Michael Gove and Skills Minister John Hayes will attending. Media interested in attending this event should contact BIS press office.
BIS's online newsroom contains the latest press notices, speeches, as well as video and images for download. It also features an up to date list of BIS press office contacts. See http://www.bis.gov.uk/newsroom for more information.
Notes to Editors
Contact Information
Name BIS Press Office Job Title
Division COI Phone
Fax
Mobile
Email NDS.BIS@coi.gsi.gov.uk
Name Lucy-Michael Sutton Job Title
Division Department for Business, Innovation and Skills Phone 020 7215 5977 Fax
Mobile
Published 15 November 2011