News story
Hayes announces new freedoms for colleges
Speaking this morning at City and Islington College in London, Further Education, Skills and Lifelong Learning Minister John Hayes said he had…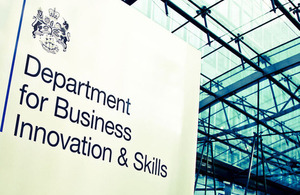 Speaking this morning at City and Islington College in London, Further Education, Skills and Lifelong Learning Minister John Hayes said he had told colleges he was lifting restrictions on how they operate.
All colleges apart from poor performers will be able to move money between budgets. This will allow them to respond quickly to local demand;
The government will work to remove the requirement for Ofsted inspections of colleges rated as outstanding, unless their performance drops;
The requirement for colleges and training organisations to complete Summary Statements of Activity has been removed;
The government will remove the regulatory requirement for college principals to undertake the Principals Qualifying Programme, recognising the range of development opportunities and qualifications open to Principals.
John Hayes said:
"As soon as I was appointed Minister I immediately set about the task of setting colleges free. This announcement sends a signal on how we are changing the relationship between government and further education.
"Responsiveness is crucial if we are to provide the skills that employers need and students want. Removing unnecessary burdens and freeing colleges to react to local demand will help achieve just that.
"I want to unlock the energies and talents of all teachers and learners in colleges across the country.
"We are opening what I hope will be an enduring dialogue between government and colleges on how we respond to new challenges and take up new opportunities, because I am determined to give everyone the chance to get on in life through new skills and qualifications. I know just how important further education colleges are in delivering the Government's ambitions."
Lynne Sedgemore, 157 Group Executive Director, said:
"The new freedoms for colleges are strongly welcomed by the 157 Group. They illustrate a clear trust and respect for high performing colleges and college leaders.
"We are keen to continually improve college responsiveness and believe these important freedoms will enable us to raise our game even further as high performing, responsive and autonomous organisations."
Martin Doel, Association of Colleges Chief Executive, said:
"Overall, this is a very positive set of proposals. We look forward to working with Government and the Skills Funding Agency to continue the direction of travel in 'setting Colleges free' to best meet the needs of the students, communities and businesses they serve.
"We are pleased in particular that today's announcement introduces plans for a 'single line' adult budget, for which the AoC has been advocating for the past two years. This single line budget will, among other things, allow Colleges to manage better the transfer from Train to Gain to additional apprentice places.
"The announcement on capital funds is similarly welcome and we look for early clarification as to how this money will be apportioned following our conversations with the Skills Funding Agency over the past two weeks. We need to get on with this work quickly."
Graham Hoyle, Association of Learning Providers Chief Executive, said:
"The ALP warmly welcomes the new Minister's early decision to demonstrate an appropriate level of trust in the provider network.
"The capacity to use budgets more flexibly will immediately benefit priority users of the FE system, both employers and individuals, and the reduction in unnecessary levels of inspection for high level performers will offer real savings to both the public purse and providers themselves, enabling more of the budget available to go directly to the training everyone so urgently needs."
Business Secretary Vince Cable also wrote today to the Chief Executive of the Skills Funding Agency setting out how government funding for 2010-11 should be spent.
Priorities included increasing the number of apprenticeship places, reducing the number of 18 to 24-year-olds not in employment, education or training, and encouraging more people to participate in adult and community learning.
The letter also set out latest budgets following the announcement that £200m from the Train to Gain budget has been refocused to provide an extra 50,000 apprenticeships this year and £50m more for college capital projects.
Notes to Editors
John Hayes spoke at City & Islington College's Centre for Applied Sciences, where courses range from Introductory Diplomas to Foundation Degrees and lead to professions requiring specialists scientific knowledge, like forensics, optics and medicine.

The government is providing nearly £3.5bn this year to the Skills Funding Agency to support training places, and a further £1bn to support other areas of further education spending.

Government funding to the Skills Funding Agency in 2010/11 will aim to:
Support progression for students through different types of education and strengthen the supply of technician level skills to the economy, particularly through level 3 apprenticeships
Prioritising vocational qualifications that are understood and valued by employers
Working with business and skills organisations to promote greater employer engagement and better use of existing skills in the workplace
Reduce the number of 18 to 24-year-olds not in employment, education or training
Secure high quality training opportunities for unemployed people to get the skills needed for work-readiness, sustainable employment and progression in learning and work
Provide independent careers guidance to enable people to make better choices about their future
Develop a programme of Lifelong Learning Accounts to create informed and empowered learners with a thirst for learning and new knowledge
Encourage more people to participate in adult and community learning
Implement joint investment proposals in high-value areas of the economy, working with employers to boost skills
Nearly £550m will be spent in 2010/11 supporting apprenticeships and another £757m on other forms of work-based learning.
Notes to Editors
Contact Information
Name BIS Press Office Job Title
Division COI Phone
Fax
Mobile
Email NDS.BIS@coi.gsi.gov.uk
Name Alex. Hamilton Job Title
Division Department for Business, Innovation and Skills Phone 020 7215 5976 Fax
Mobile
Published 17 June 2010