Press release
Have your say on flood defences in Bampton and Tiverton
Dates and venues announced for public exhibitions in Devon.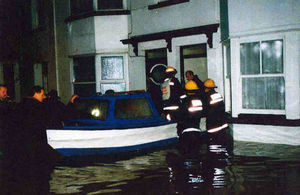 The Environment Agency wants views from residents of two Devon towns on proposed flood defences.
Drop-in sessions have been arranged for people in Bampton and Tiverton to see plans to reduce flood risk in their respective towns.
The first public exhibition is about Bampton and takes place on Tuesday 31 January between 3.30pm and 6.30pm at:
Riverside Hall
Bridge Terrace
Bampton
EX16 9LT

In December 2000, Bampton had 44 properties flooded. About 100 properties are currently at risk of flooding from the River Batherm in a more extreme flood event, despite the presence of existing defences. Property is also at potential risk of flooding from the Shuttern Brook.
The second public exhibition is about Tiverton and takes place on Wednesday 1 February between 1.30pm and 7.30pm at:
The Council Chambers
Town Hall
St Andrew Street
Tiverton
EX16 6PG

It is estimated that 1,000 to 2,000 properties and 3,000 people are at risk in an extreme flood event, of which 900 face significant or extreme flooding, despite the presence of existing defences in some locations. According to Mid-Devon District Council statistics, Tiverton flooded in 1692, 1757, 1795, 1809, 1866, 1875, 1884, 1909 (on two separate occasions), 1912, 1960 (on five separate occasions), December 2000 and December 2012.
The exhibitions will give both communities the chance to meet the project team, learn more about potential options and provide feedback.
The Environment Agency is investigating options to reduce risks in both towns and wants to work with landowners, local businesses and other interested stakeholders. Any option to reduce flood risk will only be progressed if funding and planning permission can be secured.
Ian Hooper for the Environment Agency said:
It's vital that we meet with as many people as possible in the local communities to discuss the options available to reduce flood risk in Bampton and Tiverton. That way we can develop the best solutions for everybody.
Once the options have been fully explored, the Environment Agency will develop the best solution into a detailed design for the towns. If the projects progress, and subject to the schemes receiving funding and planning permission, construction is expected to be completed by 2021.
If you're unable to attend the exhibitions but would like updates or further information email dcisenquiries@environment-agency.gov.uk.
Follow us on Twitter @EnvAgencySW
Published 20 January 2017